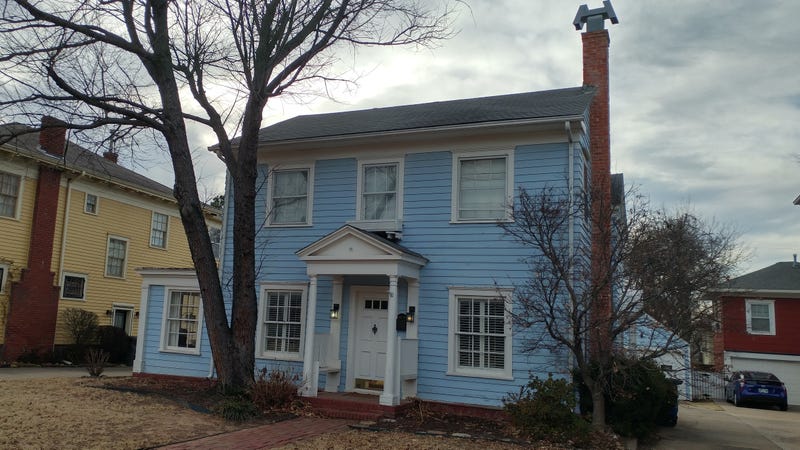 Hey so I saw all of you cool people looking for houses, so I figured I'd give it a try!
Actually not really. A house popped up for sale in my neighborhood for a lot less than they usually go for. My mom has been talking about moving to town and wanted me to go take a look. Well OK I say "popped," it has been on the market since October but the sellers recently dropped $25k off the price so it suddenly became work looking at.
Neat part was I got to see my realtor from when I bought my house 5 years ago! She is basically exactly the same except for now she dyes her hair.
The rest was kind of crap.
It was a neat house with a decent floor-plan and good originality. Unfortunately, it looks like the family that bought it were concentrating so hard on makin' babies, they forgot that 100 year old houses (this one was built in 1917) require maintenance.
A lot of it.
The outside needs a roof, paint, and significant rot repair. On the inside the floors need a coat of poly and there is a lot of minor damage from water ingress. Also the laundry room is a nightmare, as is the garage. Did I mention they're selling AS-IS?
My recommendation was if she wants to have the work done, she'd need to get another $40k off asking to make purchase + repairs + wiggle room = reasonable market value.
Sounds like she is going to pass.
Here are some photos, and I'll put the email I sent to my mom after that. Sorry about the quality, I wasn't thinking of Oppo when I took them.
Heya,

Took a look and it isn't all bad news. The summary is it needs about $60k in work. Needs exterior paint and rot repair, a new roof, and some paint and tune up inside. Lot of water damage and deferred maintenance. I think the roof either did leak or is currently leaking.

Probably the worst part is the laundry room, which isn't large enough for a washer and dryer. Odd, but would be very easy to expand as it's just a small room off the kitchen as-is right now. You could consider moving it to the master closet too.

Floors are original downstairs, but need a coat of poly ASAP. Other than that they're in great shape. Upstairs is carpet over hardwood and would need some attention.

Living room and dining room are fine, and there is a cute little nook/ solarium off the side of the living room.

Both bathrooms are small but serviceable. The half bath is off the kitchen and is a little larger than my half bath. The full bath is off the hallway and is a little smaller than mine, but has a better layout.

Kitchen is cute and well laid out. Decent size honestly, though a little light on counter space. There is some room to add additional counters and cabinets if you want to go that route. Or maybe a floating island. Nothing that needs doing immediately.

The second and third bedrooms are connected and small, so really they are just one medium sized bedroom, but there is some potential there regardless. Master is a good size and has hardwood in good shape. Good closets throughout.

Electrical is pretty standard. 150A service and looks reasonably modern. Dual HVAC and newer looking furnace, though at least one of the AC units is probably due for replacement. Didn't get a look at the 2nd furnace, so I'd assume it needs replaced until proven otherwise.

I don't think there has been any work done to it in 5 to 10 years.

So the tl;dr is I think it is a good little house that needs a lot of work, mostly on the outside.