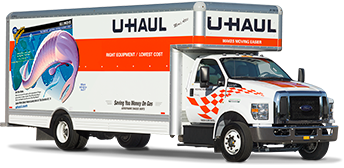 I posted about selling the current house and buying another one a week or two ago. Since then, things have progressed with all inspections, repair negotiations, appraisals and approvals having been accomplished. Last time we just bought a brand-new house. This time we're selling a house and buying another at the same time, which turns out to be much more complicated. At this point, it looks like all systems are go on both ends, with closings on tract for April 2nd and 3rd, respectively. I booked a 26 foot u-haul truck yesterday and began recruiting a few friends to help move our stuff.
For money reasons, this whole deal is having to be done in the less ideal order of closing on the current house first with those proceeds forming a significant chunk of the down payment on the new place. Factor in timelines for funding and that it will happen in two different states with two different title companies, closing on both places and moving in the same day ain't going to happen. The one simplifying factor we do have is that we're using the same bank with the same loan officer for the mortgage as on our current house, so they'll be fully in the loop of what's happening on both ends. The whole way we buy and sell houses strikes me as a system that shouldn't work yet somehow does.
 
The moving truck will have to serve as a mobile storage unit for a couple of days while we're technically homeless (although I also booked hotel room for those couple of days yesterday, too). I've spent more time than I care to admit shopping for rental trucks, and came to realize that it was going to cost $300-$400+ no matter who I went with or how I did the rental (one-way vs. local, as this is close enough I could do either). Ultimately I decided to book a U-haul for offering a large truck that has a lower than dock-height deck since we're doing this labor ourselves. Since it is technically a one-way rental, I'm hoping to get one of the newer F650 based trucks. I'd really rather support Roger Penske's racing habit and get a better truck, but a more expensive rental with a foot higher deck didn't seem justified for a sub-50 mile move and they don't seem to usually rent trucks with liftgates to non-commercial customers.
The packing of the truck from the old house on Easter shouldn't be too bad, as I should have plenty of friends who will lend me hand. My circle of friends aren't the religious type, so instead of Jesus rising we're going to have our stuff rising into the back of a truck with the assistance of everyone's favorite lubricant, beer. Unloading on Wednesday/Thursday will be more interesting with maybe only one or two people who can give us a hand during the work week.
All this is starting to feel really real now. I am, however, looking forward to trading the 25-mile commute to work for a 1.3-mile commute consisting of 3 right turns and 7 stop signs.