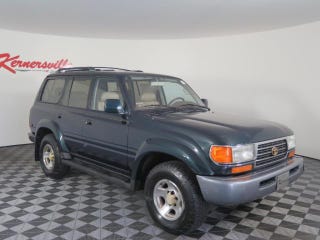 We're looking to replace our lovely 2006 Audi A3 3.2 Quattro with something larger and more practical, especially since we have received a boat from my grandfather. Needless to say, an Audi hatchback is not fit for boat-hauling duty. So now we are on the hunt...
My grandfather is trying to pawn off his 1998 Jeep Wrangler, which he used to pull the same boat, with 85,000 miles and nineteen years of hard Ohio winters under it's belt. He's done major rust repair in the last two years, but there's still some problems with frame rust. He wants $6,500, which is quite cheap for an 85,000 mile TJ here in North Carolina, but 85,000 TJ's don't have rust in North Carolina. My mother wants the Jeep because, "it's been in the family," and it has low miles. As much as I want a Jeep, I don't want my grandfather's Jeep because of the already stated rust issue. So that's where the Land Cruiser comes in.
The Land Cruiser in question is a 1995 FJZ80 with a whopping 288,000 miles, which is going for the same price as the Jeep. I've been told by some not to worry, and by others to worry a lot. Thankfully, the example above has been maintained by a Toyota dealer its whole life, which is a relief considering the Jeep has been maintained by a wise-eyed mechanic named Richie since it was new. Sadly, the Toyota also lived in Ohio (I can never win) for a large chunk of it's life, and that means there has to be rust. Going through the pictures, I do catch glimpses of the infamous Toyota-bumper-rust, but not much else. I haven't seen the Land Cruiser yet, as it is 65 miles away and I have not had time to make my way out to Kernersville (not like driving to Kernersville is a thing that people actually want to do, but ya know), but my hopes are high.
So my question to y'all is what's the better choice: the Jeep or the Toyota? Also, are there any other options that would suit well for boat/beach/trail/other activities duty under $6,500?