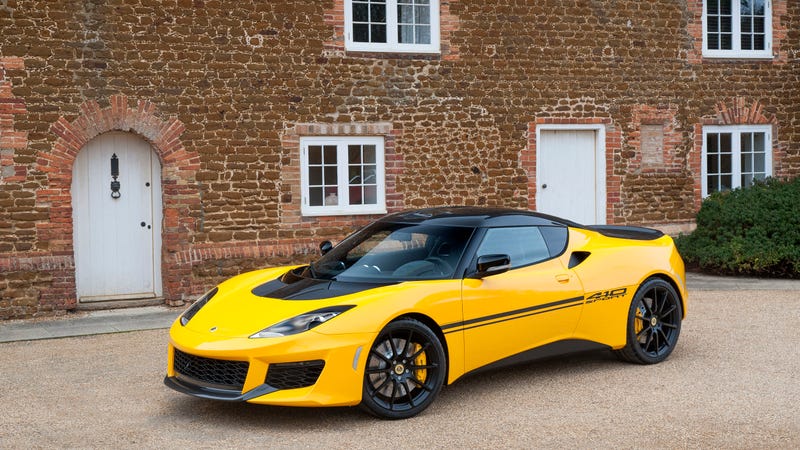 This is the new Lotus Evora Sport 410. It takes the still-new Evora 400 and adds lightness. So now you've got a bonded aluminum & carbon fiber mid-engined sports car with a 410 hp supercharged Toyota Camry V6 with AP Racing brakes and a Torsen LSD. Do we like the Evora?
I feel like the Evora has been kinda ignored over the years because it was bigger and heavier than the Elise & Exige, and didn't really get interesting until it became the Evora S and gained a supercharger. It also is supposed to be the comfortable Lotus, a goal it mostly achieves, except it still was pretty tricky to enter & exit, with big huge door sills, narrow footwells and no dead pedal.
So the Evora 400 comes along, and on top of the performance improvements (55 hp on top of the Evora S, improved suspension & brakes, Torsen LSD, etc.) it also has a bigger, easier-to-access interior. According to Road & Track,
That new structure allows door sills that are 2.2 inches lower and 1.7 inches narrower. The front footwell is 3.3 inches wider; the rear seat has gained a staggering eleven inches in width.
The sills are still chunky, but way smaller than before, and I bet you could find a half decent place to rest your left foot.
You even get cute little British flag emblems on the front fenders.
And now we've got the Evora Sport 410, that's the silly track rat version pictured at the top of this post with big 410 decals, no back seat, air conditioning, rear bulkhead glass, sound insulation, or door trim; assorted carbon fiber body panels including the roof, rear deck and fenders; a lithium battery to save 25 lbs (and hopefully not catch on fire like a Samsung Galaxy Note 7); revised aero for more downforce; stiffer shocks; and bigger, wider tires. It's supposed to be 3 seconds faster around the Lotus factory test track than the Evora 400.
Which is all well and good, but I might actually still take the 400, because it's now a properly cool car that supposedly is livable on a daily basis. The 410 is more hardcore and there are people who like hardcore. But the point is there are now two very interesting versions of the Evora, and that's a very good thing.
Amirite?