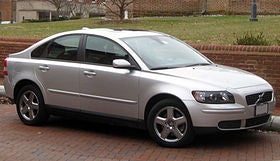 If you didn't read my last post. Basically, I need to replace the rear shocks on my Volvo. The suspension is quite stiff so I was looking into swapping it to the springs and shocks from one of the softer setups (I haven't confirmed it, but I'm 90% confident it has the stiffest. Its literally the stiffest non-modified car I've ever ridden in)
However it was looking like it's going to be pretty pricy getting 4 springs and shocks, even used. However I then thought about the anti-roll bar. I haven't checked used prices, but I'd imagine it'd be cheaper than springs and shocks. Plus if I wanna be lazy and cheap I could just do the front and keep the rear stiff for those maaaaad skids lad.
Anyway. I checked the Volvo parts catalogue and theres 5-6 different front bars, and then two style of rear bar. One style has 4 different types while the other is just one. Which isn't really important, I just thought it was interesting Volvo went through the trouble of making so many different suspension setups for their entry level car. This was also specifically for the FWD T5, so that's not even counting the AWD models. (I'm pretty sure the suspension is the same on the turbo and non turbo models.)
Kind of crazy you could create over 1,000 different suspension setups with factory parts, if you mixed and matched. 3 (front shock combos) X 3 (front spring combos) X 5 (front bar combos) X 3 X 3 (rear spring/shock) X 4 (rear bar) = 1,620
Also in case you wanted a first hand glimpse of the madness I'm talking about.
www.tascaparts.com/auto-parts/2006/volvo/s40/t5-trim/2-5l-l5-gas-engine/front-suspension-cat/stabilizer-bar-and-components-scat
Volvo's own website is even more confusing.
https://usparts.volvocars.com/a/Volvo_2006_S40-25l-5-cylinder-Turbo/_50018_5705695/Anti-roll-bar-front/GR-78260.html
Should I get the "SPORT. EFFICENCY. COMFORT" bar or the "SPORT. EFFICENCY. DYNAMIC. COMFORT" bar? :)