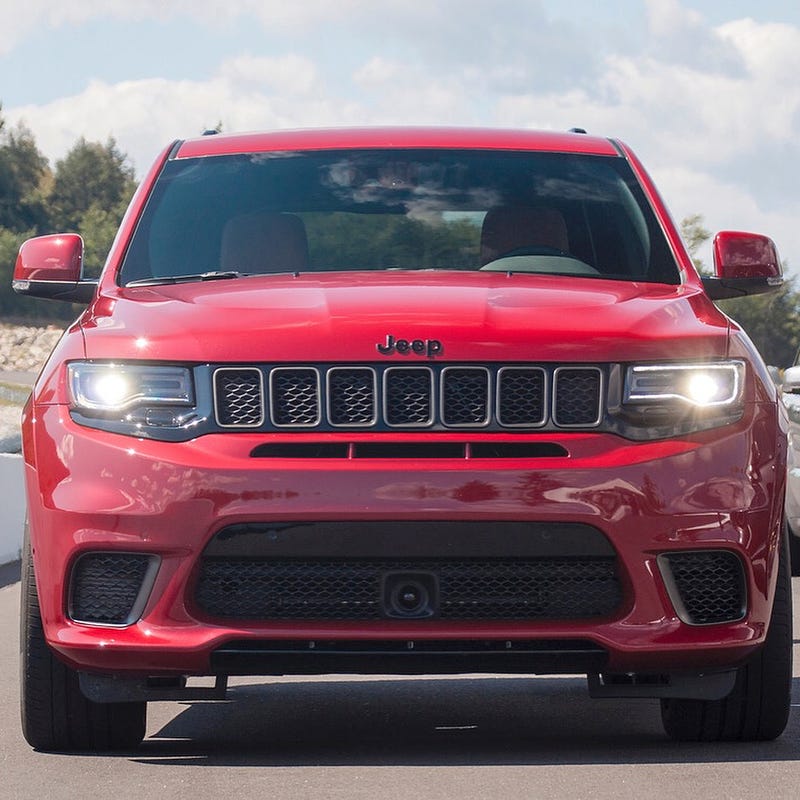 Let's be real, Alfa and Maserati are going to split and take the Giorgio platform with them so I bet ZERO work has been done to put the Challenger, Charger, Durango, 300, or Grand Cherokee on that platform. We have been told that the 5.7l HEMI, Challenger, and Charger still have another three years in them. We also know that Jeep was working on an update to the current platform which would have been used for the Maserati Levante if the Giorgio didnt turn out far better than FCA ever anticipated. Here's what Im thinking:
---
Next year (2018), announce that Alfa and Maserati are sold to Ferrari for an undervalued $7 Billion. Ferrari valuation bumps up to $30 Billion right as Sergio retires from FCA to head Ferrari and Friends.

Refresh for 2019 Challenger and Charger.
Chrysler 300 and Dodge Durango die off after 2019 MY.
---
In 2019 we get the 2020 Grand Cherokee on the revamped current platform (WL generation) that was considered for the Levante. That means the hellcat-powered Trackhawk only gets two model years which is probably about a 4,000 unit production run across all available markets. That would make it rarer than the Demon since about 75% of that total will be for the US.

I think this is the time when we get that "detuned" supercharged 6.2L V8 or a supercharged 6.4L making around 550-620 hp. That gives us a new trim line for the SRT Challenger and Charger to sit between the 392 and Hellcat. We will call it the "Banshee" engine for now. Great time for that Ram Rebel TRX to appear on the new platform.
Whatever happens to Dodge and Chrysler is still unknown but this is when the 300 and Durango return as FWD non-muscle things backed by a new parent.
---
By this point it is now the year 2020. We have the WL Grand Cherokee with the Pentastar V6, the Eagle 5.7, the Apache 6.4 (now called Trackhawk instead of SRT), and the Banshee V8 (called Trackhawk Supercharged). We probably get a "different" Hellcat V8 at this point called something like "Blackhawk."
We also have the Challenger and Charger Pentastar, Eagle, SRT Apache, SRT Banshee, and a new form of the Hellcat that splits the difference between the current Hellcat and Demon. Maybe call it the Predator engine after the drone with a light revision to the Hellcat emblem.
---
We probably get one more model year of Challenger and Charger while the new platforms are shown and the Eagle 5.7L HEMI is replaced with a turbo Pentastar. That would make the HEMI an SRT exclusive once everything switches platforms in 2021 for model year 2022. This also coincides with the Grand Cherokee refresh but it will probably continue on the WL generation platform for two or three more years. Then the new platform wont be related to the new Challenger or Charger since Jeep wont be connected to them which means introducing a whole new set of powertrains for Jeep.
This about the time a Viper successor can appear, right around 2021. This speculation is having it look like a Corvette competitor (regardless of FMR and/or RMR Corvette) with a base turbo V6 and an auto across the range.
---
In the end, I dont think we will see anything as focused as the Demon again. The Trackhawk wont ever be anything with 700 hp after this as well even though I think a crazier Grand Cherokee is on the way. The current Trackhawk's 8-speed can handle up to 860 lb-ft of torque. That must be going into the next gen Ram P/U because it's 100 lb-ft past overkill.
Those are my late night thoughts anyways. Funny enough, all the body-on-frame stuff seems solid to the announced plans regardless of what happens. That's nice!