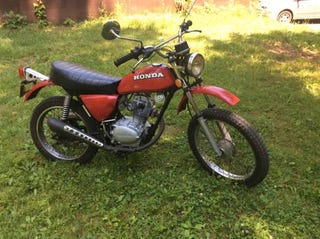 I'm 6'1", 225lbs on a good day, and my motorcycle search is still ongoing. I rode my buddy's Honda CM400T and it felt like all the power I need.
I'm not going to get a sportbike, I don't want to go too fast, I just want a toy that I can tinker with and have some fun on the backgrounds near my house.
So my question is, with my weight and height, how much bike do I need? I thought about starting off on a Ruckus, but they have auto transmissions and I wouldn't be able to break 40mph. Then I thought maybe a Grom, but they are PRICEY if you manage to find one that someone wants to get rid of.
I don't want to go too fast, I don't plan on ever getting on a highway, I just want something fun to cruise around with. I've been thinking of 125cc bikes like in the picture above. I love the look of it. Is that engine just too small? I've been doing a lot of shopping around for a 250cc as well, but some people have told me that an older 250cc might even be sluggish for my weight. I don't want to take this thing up to Lime Rock, but I definitely want to have some fun. Anyone got any ideas for me to go off of? I know never bikes get a whole lot more power out of each cc (which is why I can get an 80's 750cc Honda Interceptor that's slower than a 2017 250cc Kawasaki Ninja). But beyond the year of manufacture being a big determining factor, I really don't know what displacement bike I should be looking for.