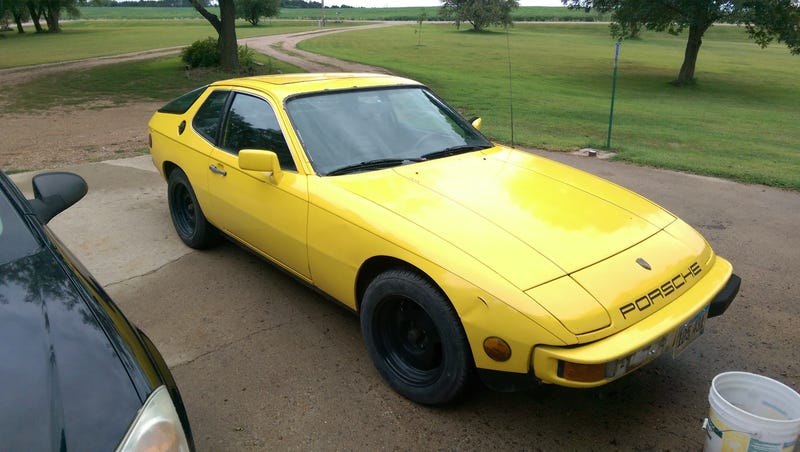 Even though I don't post often, I've shown off my 924 here before, what I haven't told you are all of the problems that it has. Looking back, I should have noticed them, but I got caught up in the dream of a $1300 (definitely paid too much) Porsche, and didn't give it a thorough look over in the dimly lit garage where the previous owner kept it. After immediately having to replace a brake line, another one shortly after, and removing the rats nest of speaker wiring that someone had poorly installed I thought all was good, until a rainy day resulted in a wet carpet. Turns out the car had some more rust issues than I or the previous owner thought. How bad could it really be though? Bad, very bad.
Turns out at some point in its life the battery tray rusted out and instead of repairing it the right way, someone very poorly fiberglassed right over the rust, painted it black and called it a day. A coating of Flex Seal got me by for a few weeks, but eventually it started to leak again. A proper fix had to be made. While I was at it, I decided to check the floor. It was about as good as you'd expect, also terrible.
So know I'm wondering to myself, how good does this repair really need to be? The cars got upwards of 180,000 miles, burns oil, has two bad syncros, a hole in the exhaust and an interior that is in need of major refreshing as well. I'm not sure how much longer I'll actually keep the car, or really how long my wife will let me keep it, and it's hardly worth a grand if I did decide to sell it. So.... do I take the time to cut out and replace as much as I can, or do I wire wheel as much rust as I can reach, slap some steel over the holes and slather it in paint? As much as I believe in doing the job right, I vote the later.