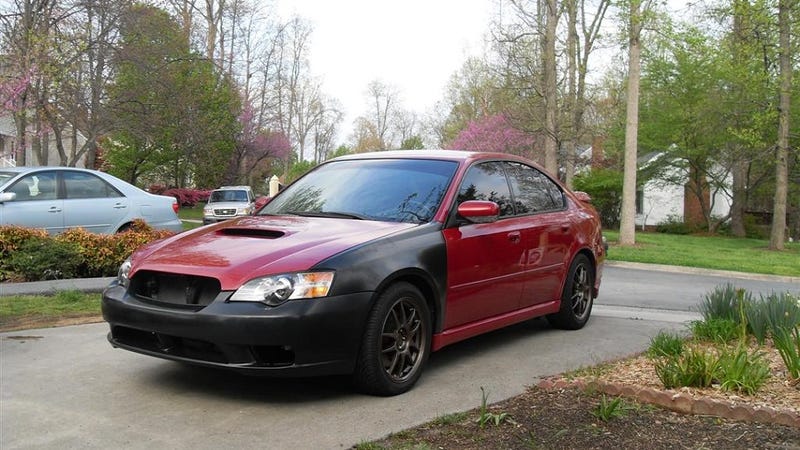 Do you ever wonder where those salvage and rebuilt cars come from? Do you wonder how you can buy one for cheap? Most of these cars that pop up come from insurance companies and are sold through the two main salvage auction houses, Copart and Insurance Auto Auctions. I am a member of both and have purchased around 40 vehicles from them combined in the last few years. Who wouldn't want a project car like this?
Get Registered
The first time you load up the pages for these auctions you may get giddy from seeing all of the cool cars that are out there that can be had for cheap but you have to do your research as you can get burned easily. In order to start bidding on vehicles at these auctions you will need to pay a registration fee of around $200 for both auction houses. At IAAI that gives you full bidding power. At Copart you will need to either pay a $400 deposit to unlock full bidding power or deposit 10% of the highest amount you want to bid to. Once you are registered as a public buyer you will be able to bid on vehicles but you have to watch carefully as to what you qualify for. Public buyers are only allowed to bid on vehicles marked public and these include salvage titled vehicles coming from insurance companies, repossessions, and clear titled vehicles from dealers that have been inspected. In most cases, clear titled vehicles coming from insurance companies and banks are dealer only.
Weed Out The Bad Apples
Once you start looking at vehicles there are a few you want to exclude right away if you plan to rebuild. Flood and fire drop off quickly as they are usually more trouble than it worth to buy the vehicle and repair it. Vehicles marked as frame damage and bio hazard are out for obvious reasons. Lastly, you do not want to buy a clear title vehicle that is coming from a dealer. Usually these vehicles have some underlying issues and the dealer has decided to dump it at the auction instead of selling it on their lot.
Calculate Your Max Spend
Once you have searched and come up with the vehicle you wish to buy, you should look at comparable vehicles on the regular market. My rule of thumb is to take 60% of the average value of a clear one and use that as the max cost. We will use my Cadillac STS as an example. At the time I was looking at it, I came up with an average price of $10500 so my max salvage value was $6300. Once you have your max price, you should take a look at what parts are needed to repair the car. In my case I estimated repair costs at $2500. Once I take the $2500 our of the $6300 value, I have $3800 to bid on it.
You can bid on the vehicles online or in person and if bidding in person you can usually get a $50 reduction in fees but it may not always be possible so I recommend at least going to the auction a few days before and checking the car out or if you are not able to go and are planning to bid online then you may look for a local inspector to go take a look at it before bidding. Now that you are ready to bid there are few more factors to consider. The first is transportation and in my case I usually account for $1.25 per mile to transport a vehicle. In the case of the Cadillac, it was 260 miles away so I accounted for $325 for transport fees. Taking that out of our $3800 we are down to $3475 to bid on the vehicle. Since I was bidding online, there was a $50 fee so we are down to $3425. That amount will need to split further as there are pull our fees and final value fees on the sale. These fees usually add up to $100 + around 10% of the final bid so we take another $100 out and we are down to $3325 and to calculate the rest I divide $3325 by 1.1 to get $3022.
Buy Your Vehicle
Now that we know that we are not going to bid higher than $3022 we can prepare for the auction. You can usually do a pre-bid for your highest amount but I recommend bidding live if possible as it usually will keep the price lower coming up to the auction. You should install the auction client beforehand and test and get ready to bid. Once you bid, you will be notified if you won the vehicle and of your final cost. In the case of the Cadillac my winning bid was $2700 and it ended up being $3119 after all of the fees. You can pay for the vehicle using a wire transfer or cashiers check. Once the vehicle is paid for, you need to either go pick it up or arrange for transport. If the vehicle is to be picked up by a third party, you will need to fill out the Power of Attorney for transport from the auction and let them know whether you want them to give the title to the driver picking up or mail it to you.
Get The Vehicle Inspected
Once the transport is paid for and the vehicle is delivered you will need to do a detailed inspection of all the parts you will need and start searching. You will also need to contact your local DMV for an inspection before beginning repairs. In NC, They fill out a document of what needs to be replaced and then require a call back once it is completed to verify that none of the parts are stolen and that and exhaust system is on the vehicle. Steve Lehto wrote a great article on this process. Seeing the small amount of time that is focused on these inspections, the only way I ever buy rebuilt vehicles is if I rebuild them myself.
Get It Fixed And Running
Now you can dig in and start repairing your car. Once it is repaired you will call them DMV inspector back and get the final inspection. You will need to register your vehicle at this time and get insurance for it. A note of caution is that many insurance companies will only allow liability insurance for rebuilt vehicles. So how did I fare on my Cadillac? You can check out more about it here but in the end my total cost was $5700 which was well below my max cost of $6300 but you do have to be careful as you can lose many at times too and out of the 40 vehicles I have bought, 2 went right back to the auction as they had too many issues, 2 were sold at a loss and 3 were parted out. I kept a couple as projects, one as a beater truck, and one as daily. The rest were resold for a profit.
Bozi is the founder of Hoonable.com and creates articles on everything from engine swaps to late model car restorations. You can follow him on Twitter and Facebook or drop him a line at Hoonable!