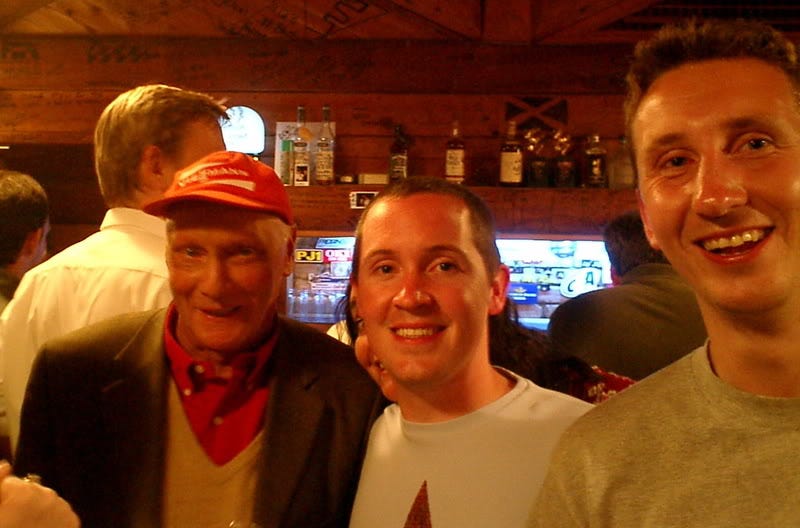 A long time ago, in a country far far away, I was working with a bunch of other Europeans on secondment in Japan. It was 2002, most of us had not spent much time in Japan before, but there we were going to make the most of it. None of us needed to buy cars while we were there, but we only held off for 3 months before getting carried away. Two of my colleagues ordered new 350Zs, I settled for a Toyota Starlet Glanza V, a turbocharged pocket rice rocket which had received an entire catalogue's worth of "hop-up" tuning parts from the previous owner. It was, in a word, hilarious.

Anyway, in those days (boy, do I sound old reading this) the final round of the F1 Championship was held at Suzuka Circuit. It was within driving distance from our base, so we decided to go for it, and camp over the weekend. A 3-day ticket for this marvellous event cost 10,000 yen, or about £50 (~$80). Bargainsome. We drive down on Friday evening, weaving in and out of the traffic on the Tomei expressway and hooning through the tunnels in Nagoya before arriving at the circuit well after dark. We hadn't really figured out where we would pitch our tents, so we just drove into the circuit grounds after paying the parking fee at the gate. The cheaper camping facilities were corralled into the golf driving range, among various undulations and fake bunkers. This was pretty full, and the only remaining spaces were in a lumpy waterlogged area way down by the fence. We decided not to use this, and found a lovely grassy area just outside where we could stretch out and set up. It was only at 2 in the morning that we discovered that this was actually a car park, as we were surrounded by headlights, shouting and manoeuvring vehicles. Fortunately, everyone was polite enough not to ask us to get out of there, and just parked around us.
Suzuka is a favourite track among the drivers, and it's pretty fabulous for the spectators too. The topography and size of the place allows a wide variety of viewing spots, and it's possible to walk all around the circuit, getting as close as a few feet from F1 cars travelling around corners at 180mph.
After the race was over, we wandered back to our tents and decided what to do next. Leaving immediately didn't make much sense, as the 120,000 spectators were queuing up to do just that, and would take 4 hours to get from the track to the nearest expressway junction at below walking pace, plus a further 4 hours to drive home (I know this because I foolishly attempted it after the Moto GP race the following year, but that is another story for another day).
We knew that the on-site Sakura Hotel would be the place where most teams were staying (there isn't a lot of choice for accommodation in Suzuka), and we guessed they'd have some form of end-of-season party somewhere in there. The trouble was, there was security. Lots of security. After mulling over various options to get past the security guards on the walk up the hill, we finally settled on trying the direct approach first. There were 8 of us, but only James was brave enough to march up to the first guards and start talking. The conversation went something like this:
Guard: "Can I see your passes, please?" James: "Hello, we're here for the party." Guard: (awkward pause) "The... Honda Party?" James: "Yes, that's the one!" Guard: "Oh, it's through that door over there". James: "Thank you very much!"
And with that, we walked through and into the hotel, sniggering with incredulity that we'd just walked through a security cordon without showing any credentials merely by asking directions to a "party".
Once inside the hotel reception, we tried not to look like we weren't supposed to be there and that we hadn't showered in a couple of days, while figuring out the next move. Adrian decided to take a look around, and returned wide-eyed a couple of minutes later to inform us that there was a log cabin in the grounds which appeared to be some sort of bar, and he'd met Niki Lauda. No more encouragement was needed, so we scrambled out there, passing Kimi Raikkonen and two blonde accompanying ladies on the way. He was headed to the McLaren party, of course.
The log cabin is a curious construction. It doesn't match any of the surrounding buildings, and along one side are a bunch of smaller "sheds", acting as karaoke booths and normally booked in advance by the teams.
Once inside, we noticed Juan Pablo Montoya sat with his back to us at the bar on the house phone, and Niki Lauda (then in charge of the Jaguar F1 team) sitting with some of his colleagues in the corner. The place was very quiet, too quiet. Shortly after getting photos with Niki, a security guard turned up to inspect passes, and promptly threw us all out. We complied, only to walk around the outside of the building and back in again. These cat-and-mouse shenanigans continued for most of the evening, avoiding security until the bar was so crowded that it wasn't possible for them to squeeze in and be heard and subsequently obeyed.
The teams and drivers turned up gradually, and much drinking and singing occurred. It all got a bit crazy. I managed to get a silly photo with Rubens Barrichello in between him taking care of "baby" Felipe Massa (then a Sauber driver) and chatting with Juan Pablo. It was hot and humid, so everyone looked a bit sweaty. And gradually more drunk. The singing became louder, the bar more crowded, and the behaviour more antisocial until I decided to call it a night at about 1:30am (I did have to drive home the next day, after all). Of course, Michael Schumacher turned up at 2am. Fortunately, I had given my camera to Adrian, so he could record Michael singing, swigging from a large bottle of vodka and climbing out of the window of the Ferrari karaoke shed so he could urinate against the side. Nice.
So, there you have it. I repeated this experiment the following year with the same level of success, despite other people telling me that it couldn't be possible. Lots of things can be achieved in Japan if you look like a foreigner and have a flexible approach to the rules. Attempting the same approach in Europe or the Americas probably wouldn't end so well...