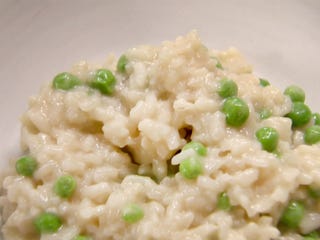 Rice. It's pretty boring to say. Rice is what you get in a sad little cardboard container when you order Chinese delivery. But risotto, now that's something fancy. Even though it's pretty much just rice that's been made with some attention.
This is a good "base" risotto to which you can add whatever mix-ins you like. Herbs, veggies, whatever. I like to add 1 cup of peas and a couple minced green onions but you can get creative.
You will need:
1 cup arborio rice
2 tbsp butter
1 tbsp olive oil
1 small onion, small dice
2 cloves garlic, minced
1/3 cup white wine
1 & 2/3 cup low sodium chicken broth
3/4 cup water
1/4 cup half&half or cream
1 cup grated fontina or fontinella cheese
1 tsp worcestershire sauce
salt & pepper to taste
The trick with risotto is you have to stir it often, and add liquid in batches so the rice gets a chance to soak up the liquid, but maintain its texture. The rice in good risotto has a little chew to it, it's not mushy.
In a saucepan over medium heat, melt 1 tbsp of butter and combine with 1 tbsp of olive oil. Sautee the onion until it turns translucent. Add the rice & sautee for about 2 minutes. Add garlic, cook for another 30 seconds.
Now here comes the liquid. We're going to do this in 3 batches. Each time, add the liquid, keep an eye on it, and stir it often. Once the rice soaks up the liquid, add the next batch.
Batch 1: 1/3 cup white wine + 2/3 cup chicken broth
Batch 2: 1 cup chicken broth
Batch 3: 3/4 cup water + 1/4 cup cream + 1 tsp worcestershire
When this last batch of liquid is mostly absorbed by the rice—but not completely—add the cheese and let it melt. This is also your opportunity to add whatever other stuff you want (like this is where I add a cup of frozen peas). When the liquid has been absorbed by the rice, add 1 tbsp of butter, let it melt, season with salt & pepper to taste, and serve immediately.
IMPORTANT: make sure you put a lid on any risotto left in the pot that you don't serve right away. This will help keep additional moisture from evaporating out of the rice, which will give you gummy, gross risotto.
Now enjoy some fancy rice, you heathens!