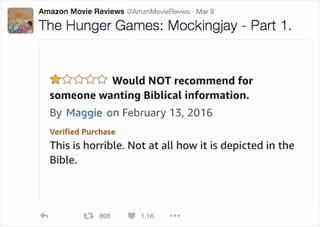 It may seem like such a simple thing, reviewing a product online for others to see and hopefully guide them in their purchase of more goods. But, in fact, it is much harder than it appears.
The first rule when reviewing products on Amazon: review the fucking product! Don't review the shipping speed! Most people now have Prime, and even when the item isn't Prime, we are given an estimate of when it will arrive. So stick to the actual product!
Second rule: Review the fucking product! Don't tell me about how it arrived damaged or it was poorly packaged. I don't care about your sob story. Anyone who has ever bought a product off Amazon that is either sold by or fulfilled by Amazon knows that they suck at properly packaging things. And even when it's a third party item, you have a guarantee from Amazon you will get your stuff intact.
Third rule: Review the sumbitch product! Don't leave a five star, one star, or any star review if you haven't used the damn thing. Also, don't leave a review if you have no opinion on it. Don't feel compelled to leave a review just because. All you're doing is making it harder for other less intelligent people like yourself to decide whether it's good or not because they have to filter through useless reviews.
Fourth rule: Review the stupid product! Don't leave a one-star review because you didn't pay attention to what you're buying and you're pissed at yourself for wasting your money. Shit happens. I've ordered the wrong thing, but I don't go and leave a one-star review because I made a mistake.
Fifth rule: Review the god damn product! Don't leave a review for an item you bought for someone else and they seem to like it, or they don't. Even if you see them using it a lot, don't leave a review unless you can provide some useful information.
And also related to reviews: Product Questions and Answers. You would think questions posed by potential customers would be easily answered, or not, by people who actually bought the product. Well, you'd be wrong. Pretty much all of the same rules I've laid out above for reviewing applies to answers: Answer the mother fucking question! I don't care if you didn't like it, that wasn't my question*. I don't care if it came damaged, that wasn't my question*. And for the love of god, if you don't know the answer, don't fucking respond with, "I don't know." If you don't fucking know, don't answer the question! Amazon will not revoke your account and seize your children or pets if you do not answer. It's okay if you don't know. And you don't need to broadcast to the world something else you do not know.
*Unless that was your question, in which case, carry on answering the correct question.