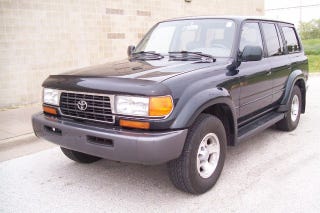 So, someone on here a while back said that one of the things they loved about my car search was the ridiculous variety of the cars I was looking at. Well, since the Phaeton fell through, fortunately for my bank account, I am headed out today to look at the two new top contenders for my first car. The only thing they have in common? Bad gas mileage. Actually, one of them is bad, and the other one is beyond bad. The two cars I am headed out to look at today are a black 1995 Toyota Land Cruiser, and a very low mileage red 1976 Cadillac Fleetwood Brougham, the only car that can make a '95 Land Cruiser look economical.
Also, I get the impression that the guy selling the LC may be an Opponanut/Jalop. To quote his Craiglist ad,
"Prefer an quick outright sale but would be interested in trading for some sort of sport wagon, preferably German with a 5spd manual transmission so thinking e34 or e39 BMW 5-series or M-series or perhaps an Audi S4/S6 of similar era."
I like this guy already.