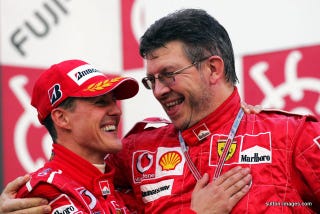 Ross Brawn, the mastermind of championships at Benneton and Ferarri has announced his retirement at, of all things, a fishing event as reported by the Telegraph. Brawn, an avid fisherman, as well as F-1 brain without equal, has said he wants to take time to fish and relax. That said, he said you can never say never...
I've always liked Ross and how he operated. He seemed to be honest and straight to the point. He also seemed to enjoy what he was doing. Brawn started his working career at the UK Atomic Energy Authority and entered racing in 1976 with March. He then went to Williams in 1978 as a machinist.
In 1991, after a few more team moves and upward movement, he was at Jaguar and was the lead designer on the XJR-14, which won the World Championship. From there it was onto Benneton and the birth of the Schumacher era. Brawn, Schmacher, Briatore and Symonds made a potent team that brought multiple championships to the multicolored team.
In 1997 he went to Ferrari and helped make it the juggernaut it was from the late '90s through the '00s with Schumacher and Jean Todt.
After that it was a difficult time at Honda GP in 2008 that ended with him buying the team for next to nothing when Honda pulled out. 2009, after scraping for funds and desperately working to keep the team together, he and Jenson Button won the World Championships with a cleverly designed car, some great driving and a good bit of luck.
When the team was bought out by Mercedes, at a nice profit to Ross, he stayed on and headed the team and partially brought about Michael Schumacher's return. While Schumacher and Rosberg weren't as successful as hoped, the team was stable and preforming reasonably well. The last couple of years have seen a shake up in leadership at Mercedes GP there have been rumbles of what Ross would do. There where hints that he wasn't perfectly happy with what was going on and he left the team last fall. With this announcement, I suppose we can see what his plans are.
Brawn looks like the type who is perfectly happy with an afternoon in hip boots. I certainly hope he enjoys himself .
Images from grandprix247.com, imalbum.aufeminin.com, autoevolution.com and grandprix.com