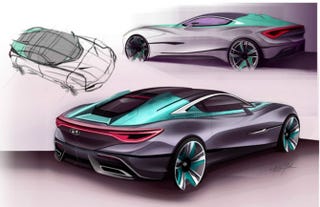 Back in 2013 the above sketches (and more) were created by AJ Merk depicting a future Hyundai Coupe. Four years later (late April 2017) Hyundai accidently revealed a picture of someone working on a clay model sportscar during a cheesy video. That original video has been removed.
In my eyes, it's the same car from AJ Merk's 2013 sketches. The differences amount to the model incorporating proportions and some cues from the HND-9 "Venace" Concept Coupe which was shown back in 2013.
Now here's where I'm having an issue. AJ Merk (the designer of that 2013 i80 Coupe design) doesn't appear to have any relation to Hyundai. Currently he works for FCA, but when I look at the the new Hyundai Grandeur (Azera) it sure does remind me of AJ Merk's tail light design.
Im just saying that it looks (to me) as if Hyundai is building off of AJ Merk's 2013 sketches but he doesnt appear to be on the payroll. Im seeing commitment to a design but none to the designer.
I just want to know if AJ Merk knows that his work is coming across in Hyundai projects that are already in motion. Ive been speculating that there wont be a Stinger 2-door because the G70 is a better sports sedan, and there wont be a G70 Coupe because Hyundai (with N brand) needs a halo. That halo is really looking to be his.
If something is happening that should or shouldnt be then it needs to be addressed.
Transparency is all I request, Hyundai.