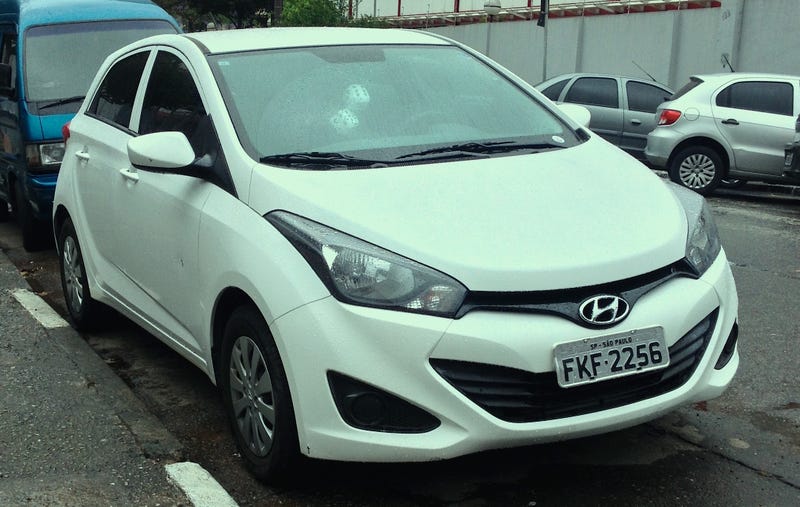 (Full Disclosure: My wife wanted this car so bad she closed the deal before even driving it. This was back in July 2013. The car is now almost 2 years old, and we're just about to send it to the 20k service. I don't have a car because I sold mine to afford living. So it's our only car, but it's hers. We DD it to work in São Paulo. I usually drive it in the morning while she applies makeup, and when we arrive to my work I hand it over to her so she goes to her work.)
This is the 2013 Hyundai HB20. It's Hyundai's first attempt at making a car specifically for the Brazilian market (HB stands for Hyundai Brasil). It's based on the same platform as the Kia Picanto. It's available with the Kappa 1 liter 3-cylinder engine or the 1.6 Gamma engine. Both engines are flex-fuel (Ethanol and Gas). The 1.6 has both a 5-speed manual or a 4-speed auto.
My wife originally wanted the Auto gearbox. But I convinced her otherwise for two reasons: She never owned a car, ever (She's 26, 24 at the time). And never had access to a DD. Her only driving up until then was done in the driving lessons and her dad occasionally allowing her to drive to somewhere not very far. So I wanted her to own a manual so she could learn the workings of a car. Also, because 4 gears isn't very good for fuel consumption (And 2013. Who makes 4 gear trannies in 2013?). And because racecar.
Exterior - 7/10
I like the looks of this car. Especially for it's category along the Fiesta (which looks nicer IMO), and certainly better than the Picanto and other cars related to it. It has some pretty modern lines and I especially like the window lines and the lights. I don't like the wheels. They look way too small, but my wife didn't want to spend the extra money for the 15" alloys (which still look a but to small for me), and that's fine with me. Just an opinion. I hope the looks age well.
The headlights have an aggressive look and I like the way they line with the grille. The rear lights are very pretty at night. Giving a very nice line to the car's ass.
Interior - 5/10
It's pretty monochromatic aside from the speedo and tach. It looks kinda boring. Especially with the completely back gearbox lever, which, along with the central console makes the whole interior look very 2004. The cloth seats are comfortable, but the lack of lumbar adjustment is horrible for long trips. But it's nice enough.
Acceleration - 4/10
It's pretty good for a 1.6 16v engine. Takes 10 seconds to achieve 100km/h (about 62mph). But overall it's pretty bad. It has horrible low-end torque. And since the 1st gear is pretty short you look like a doofus with a screaming engine on steep uphill green lights. You have to rev to at least 4k to reach an acceptable torque to throw in 2nd in uphills, otherwise you'll just have to floor it so you don't slow down. On the higher end of the rev counter you get pretty decent power, but it forces you to downshift every time you pass someone on the highway.
128hp is, unfortunately, on the higher end of horspower here in Brazil. Especially considering the only (widely sold) 1.6 engine that matches it is Ford's, with 130hp. So, considering the other options, it's one of the fastest cars in its segment. The lack of low-end torque never ceases to disappoint, though. And the engine doesn't seem to like to rev.
The skinny tires are certainly its weakest point, because when you have to do a hill start, you either bog down or you lose traction. I've mastered the clutch and got used to controlling it. But as someone who owned manuals their entire life, it's a very weird situation. The car would certainly benefit a lot with wider tires.
Braking - 5/10
Even with small discs in the front, drums in the back and 175 tires. The braking is actually pretty decent. They have a huge problem, though, which is fade. You RELY on the fade to brake better. And before you ask me what's wrong with me, allow me to explain. When I start the car in the morning, I drive out of the spot in the underground parking of our building, drive to the gate and instantly stop. From 10km/h to dead stop, instantly. Making everyone in the car (Generally just me and my wife) lean forwards. And that's already part of the morning routine, because when the brakes are cold they work as on/off switches. It takes about 2km of driving to reach the desired fade for them to work smoothly. And even tough I try every day to compensate it by feathering the brakes, it's still a pretty rough stop. I complained about it on the first service and they said it's common on cars from all manufacturers (Is it?).
On emergency situations it works pretty well, thankfully. (I'm talking to you, woman texting while driving straight on the conversion lane).
Ride - 5/10
McPherson struts in the front, torsion beam in the rear. It's... decent. It's a bit too springy. So when you go over a speed bump you bounce for a bit too long and it gets tiring. And a bit too stiff for potholes. Which give you a harsh bump and then the car bounces off... It's annoying, really. But this setup shines on highway cruising. It's very smooth for highways and it's very pleasant to go on trips.
City driving on the other hand isn't very good. Unfortunately it's 70% of what this car does.
Handling - 5/10
The skinny tires, again, are the weak point here. Not uncommon to drive around a corner on a rainy day and hear the tires fighting for traction. Pretty disappointing. And the suspension doesn't help because the car leans a lot and the suspension behavior I mentioned on the ride. Gets pretty scary on stuff that shouldn't be.
Gearbox - 7/10
1st gear is short and 5th is long. One compensates the lack of torque, the other allows 16,5mpg on the highway. The synchros aren't very forgiving for fast shifts and the multi plated clutch make them a bit too slow and feel heavy. But for DD'ing, it's a very good gearbox. The short 1st gear gets annoying because sometimes 2nd is too tall, but it's necessary. And since this is my wife's first car, the forgiving multiple plate clutch is very good on teaching control.
Toys - 6/10
Comes standard with AM/FM radio, Bluetooth, USB and Aux In (which was pretty bold back in 2013, believe it or not). The steering wheel has basic controls, which is nice because some cars have so many buttons it takes the convenience of having buttons on your thumb away because you have to look at them. Not here.
Basic AC. Which is pretty effective, but it's hard to not make it freezing cold on the front seats and burning in the back seats. Not much of an issue, since we rarely have someone in the back seat.
Basic trip computer with range, instant and overall fuel consumption is very useful, and works as expected. Power windows all around and only the driver has automatic. The gauge cluster lights are not adjustable, which gets very annoying on night driving because it gets very bright.
Audio - 4/10
The audio quality is pretty nice, but there are only 4 speakers in the entire car. All of them on the low part of the doors. I usually balance them 60% to the back so it fills the car better. And the sound deadening is pretty effective, especially for a car in this price range. And volume on 8/9 out of 40 is good enough for city driving. The wind noise above 110km/h is horrible, though, requiring volume to be adjusted to at least 15. Never had to use anything above 20 (except when Aviici was on the radio and the wife was in the car, in which cases, the volume would suddenly reach 42 somehow).
Value - 8/10
On the same price as paid for my wife's car you could have a Gol with, maybe, 4 wheels and a seat, a Fiesta with the same options (The only true equivalent), the Fiat Punto with AirBags, metallic paint and two electric failures or the Kia Picanto with a hacksaw for the people in the backseat. It was a nice deal, and the price on this car is helping Hyundai move lots of cars. The HB20 was the 6th car that sold the most in 2014.
Total: 56/100
Engine: 4 cylinders, 1.6 16v Gamma
Power: 128hp (Ethanol), 122hp (Gas) @ 6000rpm, 162Nm(E), 157Nm(G) @ 4500 - 5000 rpm
Transmission: Five-speed Manual
0-62 Time: 10.0 Seconds
Top Speed: 188km/h (117mph)
Drivetrain: Front-wheel-drive
Curb Weight: 1000kg (2200lbs)
Seating: 5 people
MPG: Rated: 7,4km/l - 17,4mpg (Ethanol/CTY) 11,4km/l - 27mpg (Ethanol/HWY) - Observed: 8km/l - 19mpg (Eth/CTY) 13km/l - 31mpg(Eth/HWY), 15km/l - 32,5mpg(Gas/HWY)
MSRP (2013): Base 1.0 - BRL31,995.00 (USD15,800.00). Base 1.6 - BRL36,995.00 (USD 17,997.50). As tested: BRL42,000.00 (USD21,000.00).