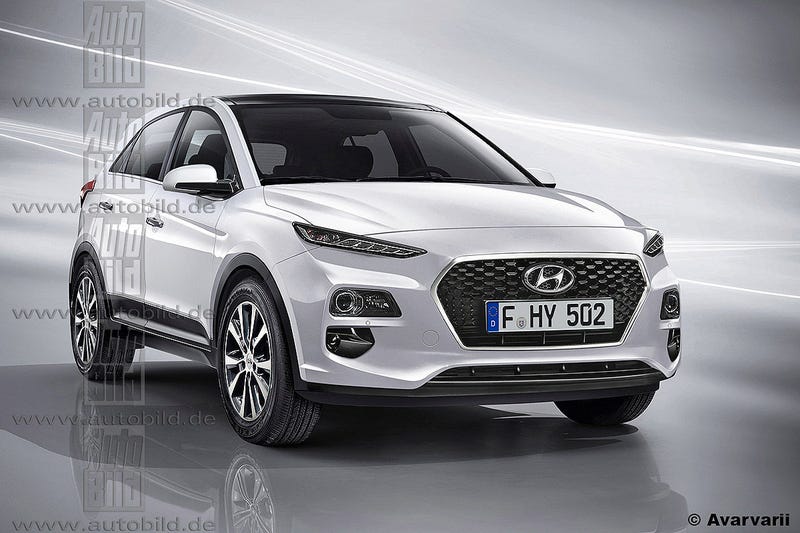 This is just a rendering from last year, however I think it's incredibly accurate. The teaser pictures going around showoff the daytime running lights, not the headlamps. Even though it will have divorced lighting it should still end up pretty attractive (better than whatever happened with the Sportage). The next generation of the Santa Fe is going to look similar to this Hyundai Kona, namely with the divorced lighting and big grill'ah.
Im not sure if Kia is making a version of this vehicle since they are making a smaller, Kia Rio based CUV that may be called the Stonic and wont be as neat as this European Elantra based CUV from Hyundai. The Kona "should" end up getting the 175 hp and/or 201 hp versions of the 1.6T engine and 7-speed DCT towards the top end, which would be a pretty serious performance advantage in that segment. The other engines should be the usual boring stuff you guys always punter around with over there in Euroland.
Though its being called a Juke, CX3, HRV competitor I actually think it's more like a Nissan Qashqai (US Rogue Sport) competitor. You know how Jeep has the Renegade as a subcompact CUV and the Cherokee for their compact CUV? Think about how the Compass squeezes inbetween them and thats pretty much what this Hyundai Kona, I think, will be more akin to.
*Thats a much better segment. I dont think the HRV, CX3 segment is what people actually wanted or will continue to be hot. I think its this weird nebulus where the Jeep Compass and Nissan Qashqai sit that will be the real hot segment.
Im speculating here because that's what I do. It will be released within a few months of the reveal apparently and I think the Kona is going to be a deceptively good crossover since its built for Europe rather than the US. No clue when it will come to the US but Europpo seems to be getting a lot of attention from Hyundai lately and the cars are much better for it.