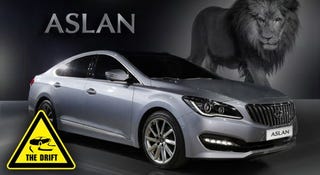 So like most of you, Im just out of The Drift and now believe Hyundai is totally out of touch with the consumer market.
Remembering that the new Sonata is classified as a large car, we have a lineup that increases in luxury as follows: Azera-Cadenza-Aslan-Genesis-K900-Equus (basically Avalon-Avalon-ES-GS-GS/LS-LS). Why Hyundai-Kia didn't make a "Platinum" trim instead of new models is a mystery.
So how about we make this Aslan into a premium crossover, do the same with the K900 (an XC90 Excellence competitor), and call it a day. I'm surprised they have zero offerings against luxury SUVs (not even a higher trim level) when even Lamborghini is entering that space.
Seriously though, how do you build 6 sedans and not think to create some type of body style variety? "Hmmm, that Lexus RX and Acura MDX sure do sell well, better put blind spot monitoring in the Azera." Ugh.