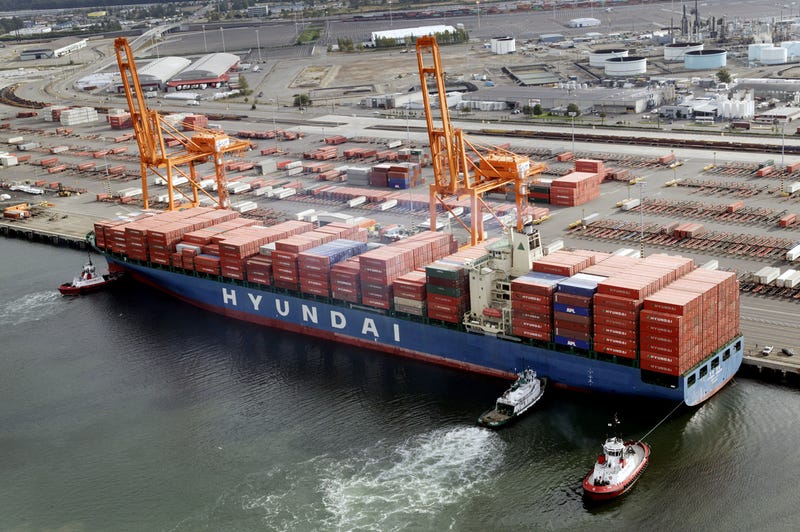 Here's the article from Bloomberg. Here are the current (as of May 2016) sizes of the top container shipping companies. Pretty much Hyundai Merchant Marine may be going from being S. Korea's 2nd largest shipping company to taking over everything but the debt of nearly bankrupt number one Hanjin Shipping (who is 7th ranked in the world in regards to container shipping companies). If you thought Nissan taking over Mitsubishi was a win then this is an extraordinary situation for Hyundai Merchant Marine.
If it helps, Hyundai Motor Group (which owns Kia Motors and Hyundai Motor Company which owns Genesis Motors and Hyundai Motors) recently became the parent to Hyundai Engineering and Construction which is the main shareholder of Hyundai Merchant Marine which is the holding company of what is left of the old Hyundai Group.
Here is a section out of Wikipedia which may help:
Following the 1997 East Asian financial crisis and Chung's death, Hyundai underwent a major restructuring and break-up, which reduced the Hyundai Group's business to encompass only container shipping services, the manufacturing of elevators, and tourism. Today, most companies bearing the name Hyundai are not legally connected to Hyundai Group. They include Hyundai Motor Group, Hyundai Department Store Group, Hyundai Heavy Industries Group and Hyundai Development Company. However, most of the former subsidiaries of the Hyundai conglomerate continue to be run by relatives of Chung. If these companies were considered as forming a single broad family business, then it would remain the largest company in South Korea with enormous economic and political power in the country.
I've been trying to write more articles focusing on the Hyundai Motor Group because I find them fascinating, no one really talks about them, and I think the scale of this conglomerate is staggering and beginning to reclaim all the parts that were broken up from the original Hyundai Group. Seriously, the speed in which Hyundai Motor Group (which has only existed since 2000) is growing and restructuring is astounding and has a direct impact on Kia Motors and the Hyundai Motor Company. For size, Hyundai Motor Group is the second largest Asian automaker (substantially behind Toyota), and the fourth largest automaker in the world behind Toyota, VW, and GM.
I just want people to understand how major Hyundai Motor Group is. What most people are questioning when it comes to the success of the Genesis luxury brand and Hyundai and Kia cars comes from looking at the fingers instead of the hand. Hyundai Motor Company is what they are thinking and judging but it's Hyundai Motor Group that is the scariest thing for other automakers because it's too diverse and rapidly increasing in size and scope.
It's also worth mentioning that Hyundai Motor Group owns Hyundai Steel which is the second largest EAF (Electric Arc Furnace) steel producer in the world. I honestly believe that is one of the greatest business advantages in all of autodom and that Tesla and its Gigafactory will function much the same way on the cars.