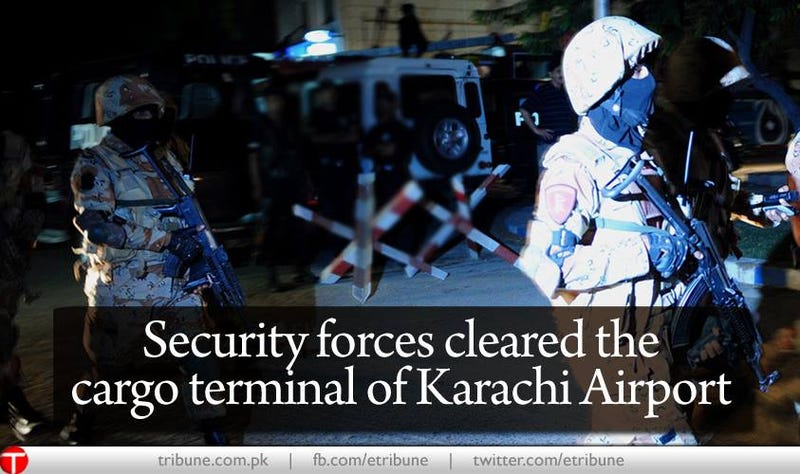 Karachi, Pakistan: Live actually at a three minutes drive away from it. Country's main and largest, and city's Army GHQ is next door neighbor to the airport. They used the lightly guarded cargo terminal runway to penetrate while simultaneously entering a building and the old terminal.
Update: All ten terrorists are shot dead in which one blew himself up. Army Tier-1 SF Group, SSG Zarar Company and Army Rangers Wing-9 SF [(First responders to the attack) (Pictured above)] took frontline , while ASF took vital positions and Rangers Infantry and Police cordoned off the area in the op.
Precious lives lost of brave security personnel and innocent bystanders.
Update: 7 ASF personnel killed, 1 Police, 1 Ranger, 2 airport and airline personnel also lost. 17 injured.
Update 2: Not a single aircraft was damaged or boarded.
Airport Security Force's (ASF)unsuspecting guards posted on gates, etc were shot dead (Four of them and few Aircraft and CAA (Civil Aviation) personnel lost their lives when the cowardly just kill for being in their way. ASF's special force retaliated as Army's Tier One rappelled in and took over the counter-op within moments while QRF Units evacuated the passengers on board the aircraft.
The attacked airport was the old one, mainly used by only cargo planes and a few maintenance hangars around. Since this airport and runway is lightly guarded, they used it for entry point to the main airport which they couldn't get even close. But the QRF and SSG Units evacuated all planes and passengers onboard to safety.
One bastard blew himself up when they saw the SF in his sights as his companions were being shot at.
So far, this is a complete security failure on Airport Security Force.
Three terrorists dead, seven are surrounded or localized to one zone as Army calls it, while Army SSG would try everything in their power to catch them alive.
The only casualties so far were the brave men who were caught off-guard for just being luggage X-Ray guys.
It is for the first time that I see Pakistani Army SF are operating under the banner of lights. They don't do that usually.
Feel like deadweight right now as SF goes in to kill them...