After a 5 month break from working on my project car (Project Blue Hair) I have finally said "F-IT" and have began ordering more goodies to complete my build. I took a break when money got very tight and haven't been able to start again for the last 5 months unfortunately. My friends have been awesome in keeping me focused on finishing the car and I can't wait to see it through to the day I get to turn the key and hear it fire for the first time!
I have had the car for a year and a half and have made solid progress in the beginning of the build taking the stock car to what it is today. It is an extensive overhaul that has taken the car down to a bare shell and hopefully back again....with probably a few nuts and bolts leftover lol.
It has had a thorough Sterling Moss treatment and 100% new suspension front to back. I have a 5.3 LS to go in along with a 4L60E auto trans that I will convert to a forward manual valve body. In between the two I have a 3500RPM stall from Vigilante. 3.55 gears in back and hopefully a 28" tall drag radial. I am shooting for sub 2800 LB range without driver. It should be plenty fun out of the box with a stock 5.3 making 325HP.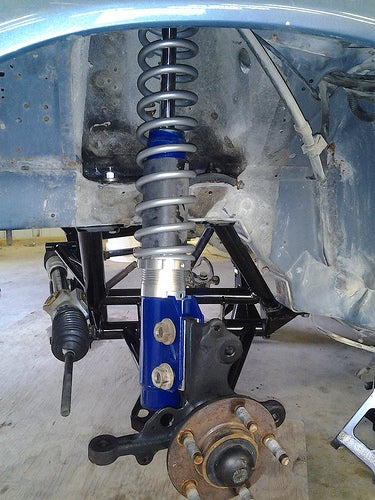 I am just happy to be back on the project for now. I can't give up. I still need to piece together my fuel system and install it, create my cooling system, wire the car, install the interior, and nut and bolt it. It's a lot of work but I am ready. Hopefully I can stay on track.
Below is a link to my build thread if anybody wants to take a look at everything I have done so far. It is a detailed write up. If you have any questions, let me know!
http://hybrid-pony.com/thread/77/1989…
Thanks.