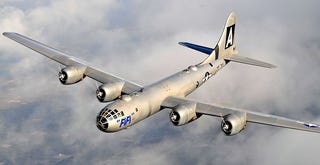 I got 2 tickets to go for a plane ride on Fifi, the world's only flying B-29 Superfortress bomber!
My dad's birthday is coming up next month. He's the hardest man in the world to shop for, pretty much the only thing hes like to do is work and he doesn't really have any hobbies. If you ask him what he wants he always says "You don't have to get me anything." If pressed, he responds "How about some blue jeans, oh, and I could use a gray sweatshirt."
To make a long story short, I found out the CAF is going to be in 3 different cities near us in the next 2 months, and they will be offering rides in WW-II planes. They have everything from AT-6 Texan trainers all the way up to P-51 Mustangs, and an assortment of bombers! But what really caught my eye was the B-29. My grandfather, dad's dad, was a B-29 training instructor during WW-II, so I think this would mean something special to him. I know it does to me. I called my mom and sister last night and ran it by both of them and they agreed that it would be great. So I just booked 2 tickets, one for him (and hopefully the other for me) and now I'm beside myself with anticipation!