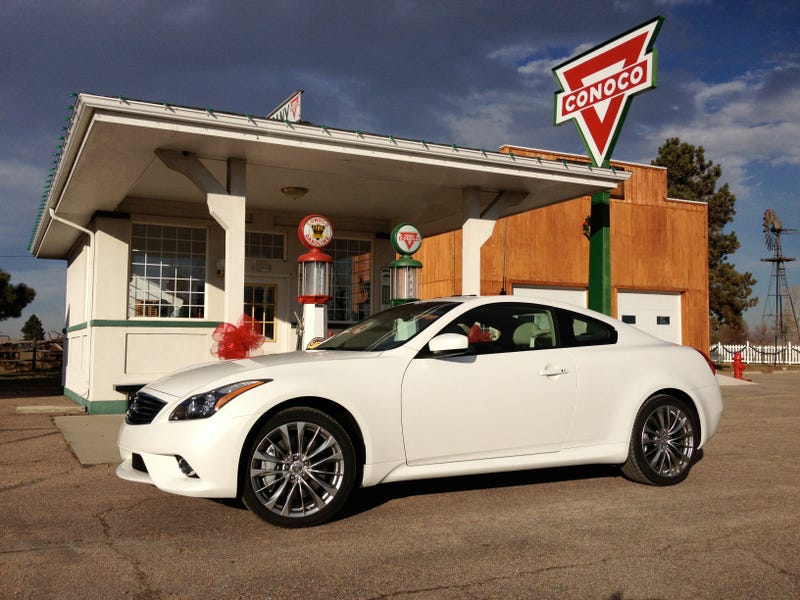 I am in the process of consolidating down from my $$$$$$$ two car situation to a less-expensive one car situation. The cheapest way to do that is not what I really want to do, but I need to do a little leg work to get my gf on board with the fun way to do this.

Right now I lease a 2013 BMW 135is and own a 2005 Jeep Grand Cherokee Limited Hemi. I wasn't necessarily planning to get 2 cars, but here I am. The lease on the 135is ends on June 29th. My lease payment is $447 and I took out a short-term loan on the Jeep that costs $235/month but is close to paid off.
If I really wanted to save money, I'd turn in the BMW, and just drive the Jeep for a while. But it's really not my style. I've pretty much decided on a lightly-used Infiniti G37xS coupe.
Since my original post thinking the G37xS looks good on paper, I've test driven a 2012 Lexus IS350 AWD (too small and there's a stupid bump in the driver's footwell from the awd system), a 2013 Acura TL SH-AWD (too high of a beltline making the view out the front like looking out of a tank and the top of the door card is too high for me to rest my left elbow on while holding the steering wheel + too crashy of a ride over sharp bumps), and a 2013 G37x coupe—not xS—which I rather liked, so I know I'll like the G37xS even more.
So far, I've floated the idea to my gf that I'll turn in the BMW in the summer, and drive my Jeep until next spring, making those sweet, sweet low payments, then buy the Infiniti next spring. If I spent around $25k on the Infiniti and made a decent down payment I'd keep the payments at about $375/month.
At first, I thought getting the G37xS in say, July, as opposed to driving the Jeep until next March, would cost about $1500 total extra money spent on payments and insurance. But where this gets interesting is, what if I sold the Jeep now and got the Infiniti when the BMW lease ends? Winter's ending, so if I know I'm getting the Infiniti in the summer, there's no reason to hold on to the Jeep.
Let's say I still make the March payment on the Jeep, so it's the April, May & June payments on it I don't make. That's $705 saved, plus whatever the insurance cost is. So really, the difference between rolling from the BMW to the Infiniti this summer vs. next spring is a few hundred bucks, and I'd have to buy the snow tires and wheels for it sooner, but that's money I'll spend eventually either way.
Since I just got done test-driving a few cars to arrive at this G37xS decision, but I said to her "hey babe don't worry I'm just doing my research now so I know what I want later," I should probably wait a few days before I share this brilliant sell-the-Jeep-now idea with her.
But yeah, I feel good about this.
UPDATE: I waited a whole day before I couldn't contain my urge to share my idea with her, and she fully endorsed it. I didn't have to do any convincing, just explained my plan same as in this post, and she said "sounds like a good idea."
Kinda reminds me why she's a keeper!
So...I will not be spending any time in purgatory of driving my apparently soon-to-be former Jeep as my one and only vehicle.
Anyone want to buy a 2005 Grand Cherokee Limited Hemi with a bunch of freshly-done maintenance and General Grabber AT2s?