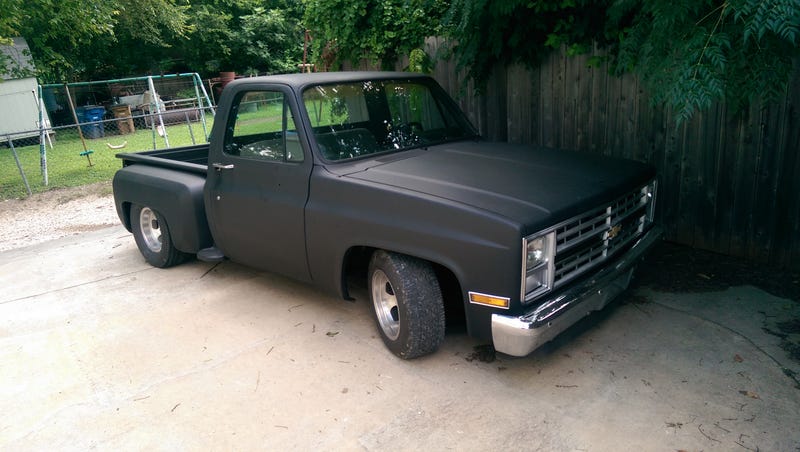 EDIT: Reposting for the morning crowd
So a couple of months ago I acquired a muscle truck with unrealistic dreams of doing a massive roadtrip in it. (Roadtripping with 454 fuel economy, smart I know)
But those dreams are starting to look more realistic, I'm quitting my job in a few weeks and my new job doesn't start until next year. Currently the road trip plan is:
Austin->Phoenix(Thanksgiving)->LA->SF(via Pacific Coast Highway)->Seattle->Rochester MN ->Chicago ->Kalamazoo->Detroit (Christmas)->Williamstown, MA (New Years)-> New York->Philadelphia->Other randomness->New Orleans->Austin.

This gets me to all the holiday celebrations with the different branches of my family (that I have missed for the last three years due to working on oil rigs, where I am typing this from right now) and allows me to see the entire country, if not in exactly the ideal season.

But back to the truck, it is what I want to do this crazy trip in. It has a carb-ed 454, a Turbo-400, a flip kit, drop spindles and... that's about it. It needs a lot of little things here and there, and I have started to acquire the things I need. For example: Taillights!
The PO had installed these stupid Harley Davidson taillights on the muscle truck, not only are these incredibly small, they're also illegal since there are no backup lights or licence plate light. These stock ones solve my problem, and I like the industrial look too. 40 year old new stock (weird) for $75 shipped. Me gusta. This is a great deal, other places on eBay are trying to charge $200 for a set of similar lights without the mounting brackets or wiring harness.
Muscle truck needs a new alternator and a new water pump, I used to always go straight to rock auto for parts like these but my new favorite source for car parts is far and away Amazon.com. If you're not currently buying parts off Amazon you really need to start, especially if you have Amazon prime. Better prices than Rockauto (when shipping is factored it) and 2 day shipping? Yes please. Boom new water pump $36.55 shipped.
Boom remanufactured alternator (with no core garbage) $53.26 Shipped.
I still have a long list of things to buy/install. Probably the most critical is climate control. I'm planning on getting a Vintage Air underdash A/C /Heater system. These things are awesome, and don't look like to hard of an install. Other things I need are:
-Inner fenders
-Rear bumper (maybe)
-Stereo (maybe one of these?)
-GMC Emblem (Since it is actually a GMC)
-Tires
-Carpet? Floormats?
-New Header gaskets
-Weather stripping (Road trip is in the cold places in the cold months)

Things I have that still need to be installed:
-Mirrors
-Seat Belts
-Door cards (Have to be vinyl sprayed black to match the rest of the interior)

I've got a lot of work ahead of me. If somehow I'm able to get this stuff done quickly I might attempt an air bag install but comfort is lower on my priority list right now. And that would be expensive. We'll see if I can pull this all off, if I can't get it done I'll just roadtrip in the FoST but doing it in an unreliable old truck Roadkill style seems like it would be a lot more fun (and by fun I mean dumb).