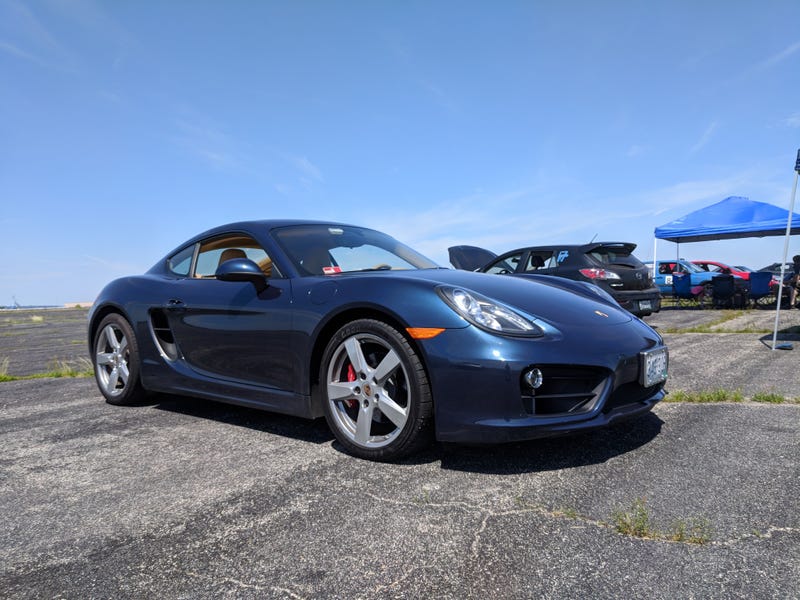 Like it says, no video. But, I thought I would give my thoughts, impressions, and maybe a funny tidbit or two. Weather was mid 80s, with a good breeze, if that matters.
We start by doing follow-the-leader laps to learn the course. I've been here 4 times before, so it's really just reacquainting myself while feeling the Porsche out. But, going slow and with traction control on (because no reason to spin on practice laps) did NOT prepare me for my first run. I slid straight through a cone on a big sweeping right and very quickly learned an adjustment I had to make. This thing goes sideways like it was Formula D! Granted, the limits of grip are way better than the Mustang had and it doesn't pirouette like the Mustang. It slides sideways rather than spins unless you really lose it, so I actually recovered a bunch and just lost time rather than ruining the whole run.

I had mostly really good times all day. Every clean lap came in between 1-3 seconds faster than my best Mustang times. I FINALLY beat the best times of both my friend's WRXs (2015 and 2012 I think), which was really my secondary goal. My first goal was to learn the limits of this car, and boy did I. I completely spun on the slalom once when a cone was way out of position. I skidded through a hairpin when I braked too late. And, I went from 1st to 4th by accident and did half the course in 4th rather than 2nd... that was embarrassing and the only time I had a passenger.
But, as always with autocross, I had a ton of fun. I did 15 runs, and if you negate the spins and such I was very consistent. I'm also 100% sure I should have gotten at least a second off my best time twice, but once they forgot to stop the watch, and the other time there were 2 cones out of place in the last station (drive a circle around 4 cones) which I lost time on but still came 1 second behind my best. I am not happy about that, but it leaves room to improve for next time!
So, what could be better? My tires are definitely a huge limiting factor. The fronts were already somewhat broken in given the marks on them from when I bought it, and overall I think they just don't have as much grip as the Sumitomo HTR Z III tires I had on my Mustang the last autocross. For the record, the Porsche has Goodyear Eagle F1 tires. The brakes also didn't bite as hard as they could I think so better fluid could probably help, and of course pads. Obviously, my complaints about the tires and brakes in comparison to the Mustang might also be offset by how completely different the cars are. And, I'm not going to do fluid and pads anytime soon since I just bought the thing recently and don't want to dump too much more into it so soon. Maybe next year.
As always, my driving could of course be improved, and I will work on that at the next autocross! Thanks for reading.