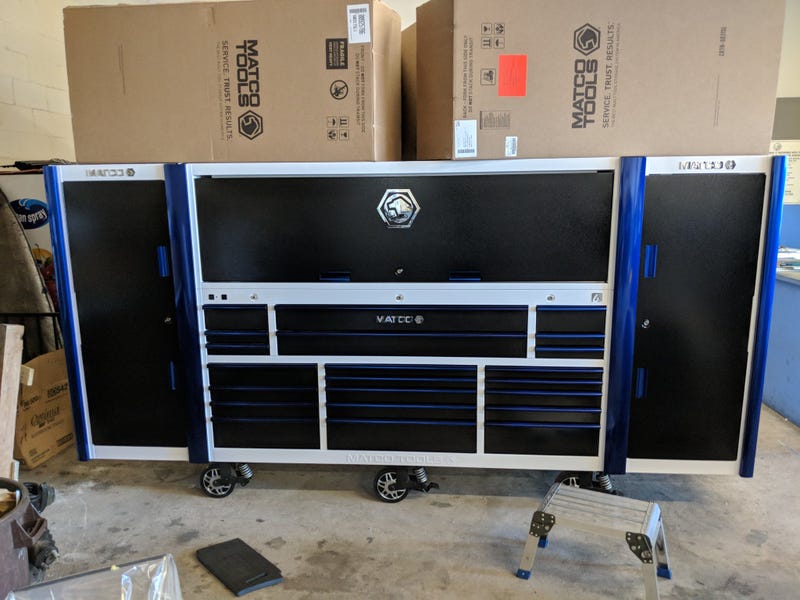 Granted, it's not your normal car considering it doesn't come with its own mode of power, but it costs as much as most cars.
This is the biggest single unit box any of the big three make, and I've been wanting this thing in one form or another for years. And this was one is all decked out. The hutch has automatic lighting, and it also has a power strip built in. Both lockers have power shelves, with one having a holster thingy. And the front of the box has an outlet and USB ports (all the other strips have USB ports too).

This thing is also massive: it's almost twelve feet wide, three feet deep, and over six feet tall. It also weighs as much as a car, even without any tools in it. I can't move it by myself now that it's all assembled*. And I'm afraid how I'm going to move it once I put all my tools in it.

*Matco, in their infinite cheapness, won't put the lockers on when they ship it. They come on their own pallets, and they probably weigh many hundreds of pounds. It took several guys, and several jacks, to get them both on.

I'm pretty excited to get it filled up and make it my own.

His Stigness
Self-diagnosed German fanatic. In other words a masochist extraordinaire.