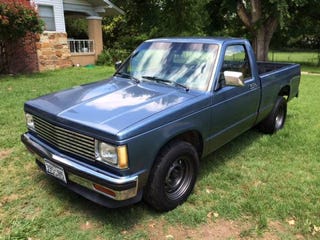 140k original miles

4000 on engine rebuild with new clutch
A/c , Heater, Power Steering all work perfectly.
New Paint
So the old man I purchased this truck from did all this work on the truck and gave it to his grandson on his 16th birthday. They took it to a parking lot and that was when the child decided he wanted a automatic jeep and wasn't interested in the s10 or the fact that it was a standard. After ole papaw had busted his ass making this thing ready. Any how I showed up yesterday to purchase the truck and he was pretty bent out of shape about letting it go.
I ended up telling Ron to come out to the drag strip with us this weekend and hang out with the guys and at 65-70 I'm sure this ole man is pumped for this weekend and so am I.
I paid $xxxx for the truck and then immediately drove it 4 hours back to Austin without a hick up.