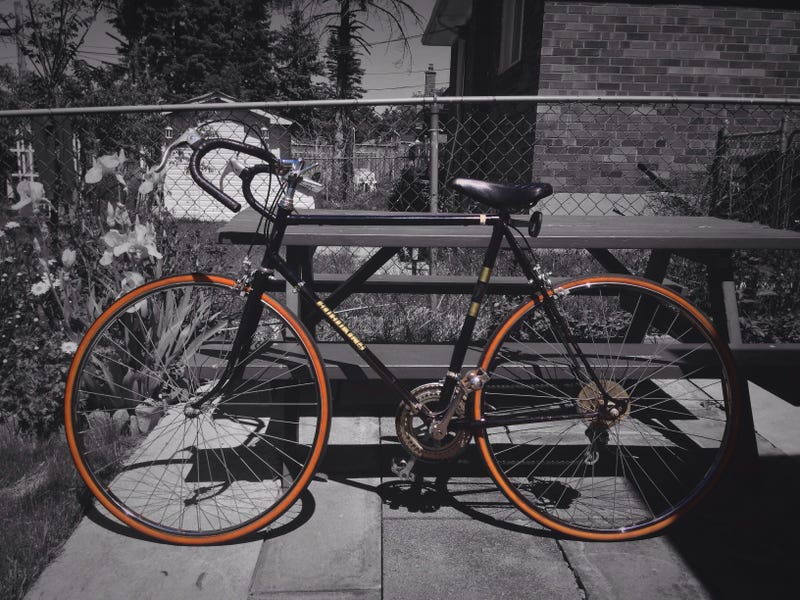 ... And yesterday I bought one. It's basically the Lotus of bicycles.
...Okay.
I'll be dead honest - it's nothing of the sort. But it is this sweet classic speed bike in classic "Lotus Players Special" colours, and here's the backstory as to why I bought it.
When I was a toddler, my mothers boyfriend was an avid bicyclist. He was a Hungarian hair stylist who loved all things speed. He had a couple nice cars in his life, but due to poor cardiac health, he decided to sell them all and take up "Bicycle touring". On his wall in his condo, hung his beautiful 18 Speed "speedbike". As a kid, I always wanted to ride a bike like that one day... And now it looks like that day has come.
This is a 1974 "Eatons" Road King. Eatons was a famous department store in Canada, that sold pretty much everything. Consider them like Sears, except, at one point they absolutely dwarfed Sears in terms of sheer product.
Brand new in 1974, it sold for (what would be equivalent today) $1100. Although the body says "Eatons", it was actually a Raleigh bicycle underneath. It's made out of steel (so it's heavy compared to today's carbon and aluminum bikes), and it features 12 Shimano Centeron gears and Sugino pedals and flywheel. Brakes are cable actuated, and the bike feels very solid. It's current value in the shape it's in (Which I might add is all original), would be about $150.
I paid $17 for it at a thrift store.
When I got it, it was covered in rust and dust - you literally couldn't even tell what colour it was underneath it all. I put in about 3 hours last night restoring the chrome, and giving it a good polish and leather cleaning, and she now looks like an at most, 5 year old bicycle.
Now, I'm not one to advocate road bicycling in any form. I prefer cars - Hell, even motorcycles - to bicycling.
That doesn't mean that I can't appreciate a bicyclists viewpoint though, and I think it's only fair to appreciate all forms of transport. What I really like about this particular bike is its semi-lightweight, its colour combo, and its originality. I plan on doing a few upgrades to it before I start taking it out beyond "around the block" tours.
One of the things I'd like to do is change the seat to a burnt orange leather, to match the inner tire wall. I'd also like to add front reflectors, a bell, and a water bottle holder. At some point in the future, I'd also like to rewrap the handlebars in new black leather. I'll also be picking up some etched matte black Lotus valve stem covers to "complete" the look.
Although the bike is practically worthless, it's like a classic car in the sense that it has value to whomever uses it; In this case, that person is me.
And at the end of the day, isn't a Bicycle the ultimate example of Mr. Chapman's ethos of "Simplify, then add Lightness"?