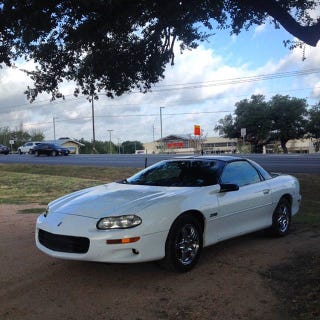 " First off this car has 206k and still running strong I know ppl get scared on the high number but this car takes me on trips without a problem cold ac all power works no check engine new water pump and radiator under warranty still clutch feels stock everything is stock as could be driver seat is the only horrible thing in it but other than that dash typical 4th Gen tags are out bcs I don't wanna spend money on putting it under my name I need the money for loan pay offs plz not bs and low ballers plz thank you"
The ad looks like it's been removed so I just copy & pasted the post.
I was able to drive this car away for $2600 !! It helps that after selling the LSX Datassun I've got more than enough spare parts and even some go fast stuff. I'll make sure to take a few pics today and make a better post soon. Car needs a power steering line, new steering wheel , new driver seat.
A/c blows Ice cold and it's been hot as satan's nuts in Texas lately. Like 2 rats fucking in a wool sock. STUPID HOT !
Plans are to drive it 3 hours each way to DFW this weekend for some no prep drag race action @ Texas Raceway http://www.texasraceway.com/
If any of you folks decide to go to these races hit me up !