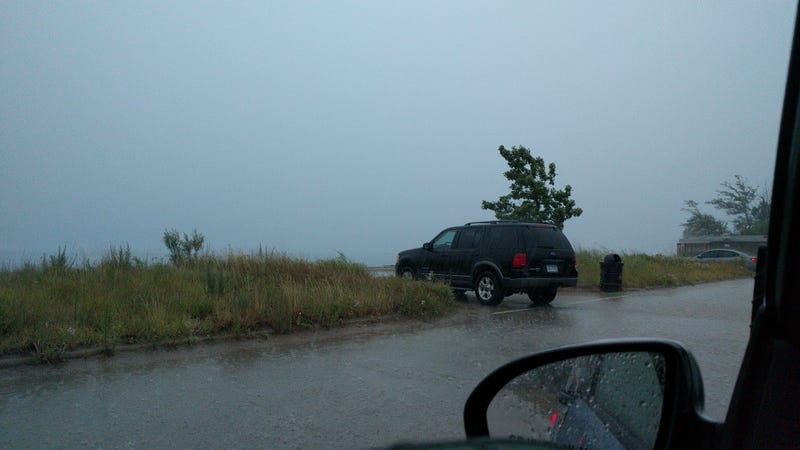 Alright everyone... I have a PSA for ya! Do not, and I mean do NOT ever storm chase in a smart unless you have it locked down like a vault.

I've been spending literally the last three days going to my favourite beach. It's so tranquil, like omg does it feel SO good...like being at peace and no fuchs given about the problems in life. Just slip into freezing Lake Michigan and drift away..............
Anyway, today's beach stint (as planned) was supposed to end with some storm chasing. There was a massive storm brewing in Iowa/Minnesota and it crawled across Illinois/Wisconsin for much of the day. It finally hit the beach (a little later than predicted) at 6pm. Everyone was running like crazy, but I was in my happy place.
I hopped in Tucker and followed the storm track. With the new belts on, I no longer need to fear driving in the rain!
30 minutes into the chase, I dipped to another beach for a photo op...oops.
The storm had created near instant flash flooding in the local area, causing a 5ft section of road to the beach being covered in like 4 inches of standing water. By all definitions, a puddle.
Now, I know there's a slight design issue with 2nd gen smarts. It's that too much water pressure pushing on the side skirts will cause them to fail. My first way through the puddle, I remembered that fact. So I waded slow at 10mph and all was good. I nabbed a video of lightning then split.
Unfortunately, splitting also meant forgetting the design fault. Bursting with excitement, I hit back on the same road at 50mph. As I approached the puddle, I noticed the depth hadn't changed from a few minutes earlier so, FULL SPEED AHEAD!!!
D'oh! I heard a sound I've only heard once before since I bought my smart four years ago, the sound of the right side skirt being pulled off the car.
I immediately pulled to the side to make sure I was right. Yep, pulled skirt. Crap.
I halted my fun and pulled into a petrol station to get out of the rain to put the skirt back on. (Quick reminder, I was still in my swimsuit while all this happened)
As I sat on the ground and began fighting the side skirt, no less than four guys appeared out of nowhere to help. One guy was a mechanic. Took him all of ten minutes before he gave up.
From the feels of it, two of the bottom clips got rounded out. The side skirt won't be secure without them. The other idea is that it takes massive force to engage said clips...either way, I need to wait until it's dry tomorrow morning so I can say for sure.
So, what's a woman like me to do if the clips are broken? Since the clips are molded in the skirt, normally it would mean buying a new skirt. (When this happened four years ago after a car wash pulled off the skirt on the same side, it was replaced with a new one under warranty)
However, I don't have new side skirt money. Homebrew it is!
My plan:
Step 1: Dremel down the clips shorter than where they would meet the frame rail.
Step 2: Drill holes in clips.
Step 3. Thread zip ties through the holes in the clips, then through the designated frame rail holes where the clips would normally go.
Step 4: Tighten zip ties. Better than new?
This method is working to keep the rear bumper attached (in replacement of some dumb pins), so it should work here as well!
Don't storm chase in a smart....