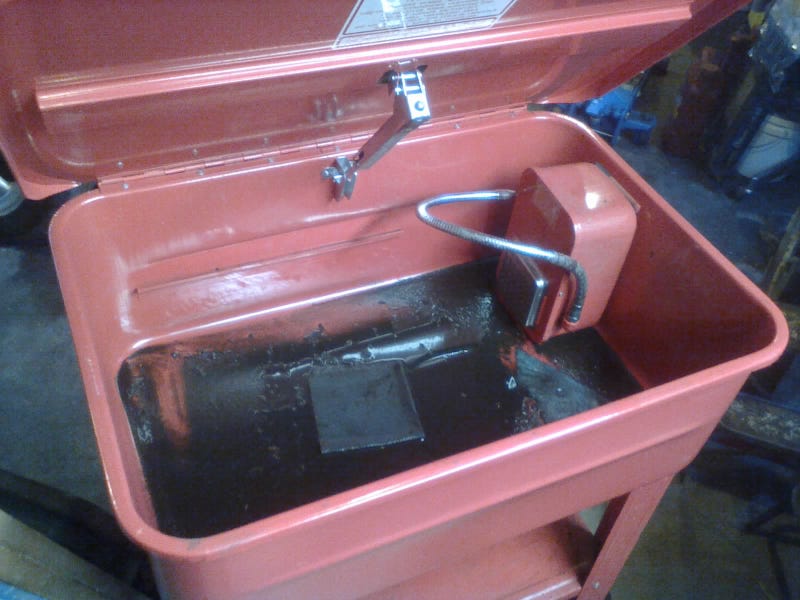 It was time.
One of the first places I worked at had a parts washer, and I always liked how easy that made things. (It sure beats going through cans of brake cleaner!) A tub, some solvent, a sprayer, and some brushes worked wonders when you had a small component (like a brake drum) that could be removed from the vehicle.
A few years ago, I took it upon myself to rebuild my first automatic transmission: the 4R70W out of my 1996 Thunderbird. Part of the money I saved by doing the work myself went into this cheap (I want to say it was something like $80?) parts washer.
It didn't come with fluid, so I picked up two 5gal buckets of solvent from TSC. (Not so cheap, I'm afraid; the solvent cost nearly as much as the washer!) 10 gallons was enough to fill the tub about half-way, covering the inlet screen for the electric pump, and bringing the level to just underneath the workshelf.
I set the 4R70W on a stand, pulled out all the guts, and took apart the sub-assemblies. I then used my new parts washer to clean the pieces one by one (I took the empty transmission case to a coin-op car wash to clean it). I can't even imagine how many cans of brake cleaner I would have had to go through if I didn't have this thing.
Since that transmission rebuild (which was 100% successful, BTW), the parts washer has been sitting along the wall of my garage. With the lid closed, it serves as a sort of workbench extension. I admittedly don't use it much (maybe once or twice a year), but when I do, boy howdy it sure is handy!
I used it to clean up the greasy timing cover of my truck, as well as the timing cover of my Mustang. It also came in handy for the Mustang's axle guts when I rebuilt the 8.8 with new bearings and clutch-packs.
Now the tub's clean and I've filtered the solvent for re-use. It's ready for the next task!