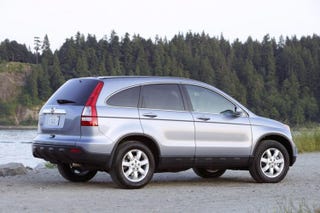 So we have a base model 2008 Honda CR-V LX with about 70k on the clock. There is nothing wrong with it mechanically, drives great, and meets our needs 350 days a year. The thing is that the cargo space is small, and whenever we take a trip we will stuff the car, (with more than we need, but that's a fight I will never win) and occasionally have to break out the roof top bag, which is a pain in the ass. Plus my wife has been wanting a giant SUV forever. I'm serious; I tried to sell her on a wagon! She was not having it and it not like we could afford any of the "cool" ones anyway. So we have decided on the Honda Pilot as out next vehicle.
We have not really thought about going through with replacing the CR-V in the near term but, the dealership has called me twice this week about"special offers" they have regarding the car. I didn't have time to listen to the nice salesperson because it was in the middle of my work day both times but from looking at their website their used car inventory is pretty low. Now, I financed this vehicle for 60 months when the lease was up originally a few years ago. Looking back it doesn't seem like that great a call but thankfully the car has held its value. Going by the KBB value in "good" condition we would break even on the trade in value and be up a couple k if we sold it privately.
I'm thinking about getting all my facts and numbers together and calling the dealership. If they can get us in a new Pilot lease with little or no money out of pocket and keep the monthly payments nearly the same. Does this sound like an alright idea or a waste of time and money?