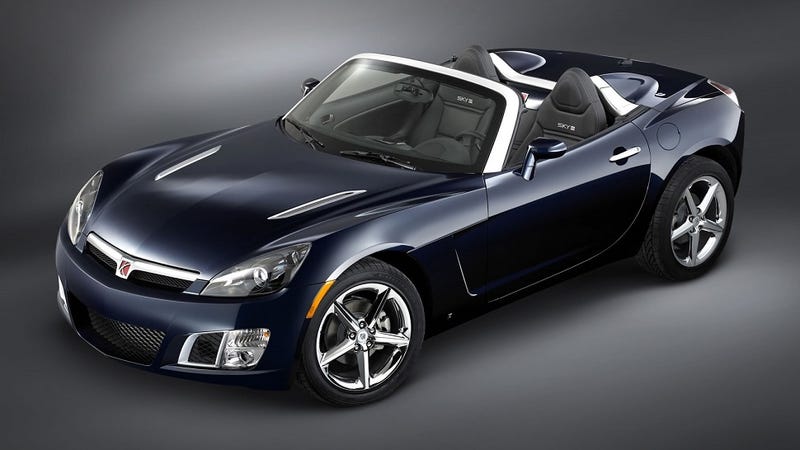 OK, not directly. And it wasn't just me. But it's plausible that I might have had just a tiny bit of influence on how this car came to be.
Back in the day, before Saturn lost their way and became yet another GM badge engineered division, there were some small online groups of Saturn performance enthusiasts. One of them, the Saturn Performance Club, consisted of the most hardcore of those and the ones who competed successfully in autocross and road racing. The S Series had a lot of potential, and these were the guys (and gals) who figured out how to unleash it.

Each year, the group held the Saturn Performance Club Rally. This was not a stage rally or Cannonball Run type of event, but a week long gathering of people from the online group to hang out and play with their Saturns, or whatever else they brought. In 2001, I took my mostly stock 1996 SL2 out to the Chicago area to join them for a week of plastic performance. The trip is well documented here by Lane, a long time member of the club who still maintains evilplastic.com. Among other things, we had a dyno day, competed in our own bracket drag race class (which I won, having never done it before), got kicked out of a go-kart track for racing too aggressively (an annual tradition), and had a lapping day at Gingerman Raceway, with a tech day beforehand to get all of our cars into proper condition for the track as I am doing here.
Also joining us, for the first time, were some representatives from Saturn themselves. The factory One Lap of America team brought both their turbo SC1 and the LW300 that they had run in the 2001 event. I actually got a ride around the track in that LW300 with Ken Wasmer, the L Series Assistant Chief Engineer. Todd Christensen, the S Series Brand Manager, also came along, with a pre-production 2002 SC2, to give us a presentation and see what this performance thing was all about.
It was clear, from the presentation he'd prepared, that he hadn't realized just how knowledgeable we already were about the car, nor the level of expertise with which we had modified them. But he caught on quickly, and wanted to learn all about it. He was adamant that he wanted to meet each of us individually to look at, discuss, and learn about our cars.
Todd was serious, and he followed through. When my turn came along, I told him about how I'd set it up as a slightly more sporty daily driver, since I had a Miata that I autocrossed and took to the track when not attending Saturn events. This was a familiar story among many previous Saturn enthusiasts. I'd installed one of the first automotive MP3 players on the market, and Todd was familiar with the Mazda Protege MP3, which came with one as standard equipment. When we went around the back of the car, he got a good laugh out of the BMW ///M badge I had put there. I attended a lot of BMW club events, and slapped the utterly inappropriate badge on my car just for a laugh. Todd liked it so much he took a picture of it.
Here is where I switch gears into speculation mode. It takes several years for a car to go from concept to production. Todd told us himself that in his world, the S Series was already dead, due to be replaced by the Ion in two years (2003). What if that meeting with the Saturn Performance Club had shown Todd that Saturn needed its own Miata, so that performance enthusiasts could upgrade to one and stay in the Saturn family? The Sky came out in 2006, five years after our meeting, which is enough time to present the concept, realize "Hmm, we're already turning the Opel Speedster into the Pontiac Solstice, so why not give Saturn one too?"

Additionally, three years after our meeting, Saturn introduced the Red Line performance versions of their cars, first with the Ion, then the Vue, and finally with the Sky. There was even a special Red Line badge to go with these tuned up versions. I couldn't help thinking about how tickled the Brand Manager was at the concept of a performance line badge on a Saturn, and wondering if maybe his picture of my car made the rounds at Saturn and helped lead to Red Line's existence in some small way.
(Photo credits: saturnskyredline.net, Jamin Cummings, Creative Commons, cartype.com)