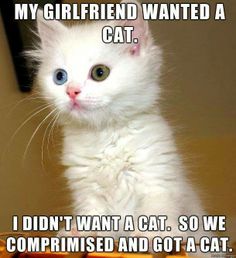 This meme is real life. My girlfriend wanted a cat but I'm more of a dog person. Still, she wanted one and I knew that I would love anything we got.
One attempt at a cat with a shelter went very...strangely. There was over a week between communications.
Then my gf went to some shelters today. I showed up at one and she said "do you want to meet Juliette?" Sure.
I melted.
This is Juliette. She was brought in last week to the rescue. They believe she was hit by a car because there was road rash across her face, shards of glass in her shoulder...and her front left leg was absolutely shattered. The fractures, breaks and damage to the leg and shoulder necessitated and amputation, done on Thursday. She is already walking around and adjusting well.
In addition to that accident, she is severely underweight and malnourished. 4 lbs. Under a year old. Other bones show healed fractures. It was a rough life.
But not anymore. We get her tomorrow.
She is so sweet and soft...and tough as nails. I plan on making her a play pen, cat perch and more.
Idk what onions were doing at an animal shelter but they made my eyes itch.