I have been an adamant supporter of buying lightly used luxury ever since forever now, because depreciation sucks, like a lot. That and places like Carmax and dealer CPO programs have warranties that are as good as new cars without the depreciation hit. So naturally...
I bought a new Audi Q5 TDI.
Used car shopping in Germany is a pain in the ass, especially for US spec cars to bring home. All of the lightly used have 0 warranty, so the choice is either brand new or your on your own.
Luckily (?) for me A local new car service for US spec cars is getting rid of 2014 stock and had a TDI left with 180 miles on it. It's moonlight blue metallic with pistachio (dumb color name) leather and it's a premium plus model. And we managed to pick it up for 7k off msrp including 75k mile bumper to bumper and shipping to the states.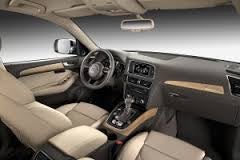 Keyless entry, panoramic roof, power liftgate, oh yea and 428 of the torques. Yay for torque.
So I broke my only rule but screw it sometimes you just gotta do dumb shit I suppose.
Just think of the torques!