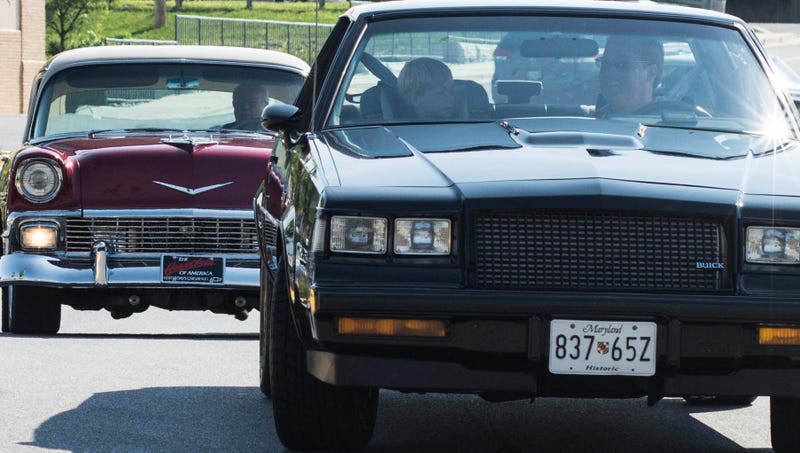 On my first Oppo post I started out with saying that I hate Maryland. Perhaps those words were a bit too strong. I don't hate everyone or everything here.
For every 100 distracted MDX moms there's a cool old guy who loves cars.
For every cash-cow speed camera there's a bowl of crab dip seasoned with Old Bay.
For every few-thousand long-neglected potholes there's a good bar in Fell's Point.
For every hour I spend in traffic due to people rubbernecking an accident on the other side of the median there's a windy, empty country road 20 minutes from where I live.
I keep going to Cars and Coffee in Burtonsville and keep coming up aces.
Today I parked the Ghia toward the back across from a 'Vette with a mural painted on the hood. I love murals painted on cars.
It would be cool to put a mural of Camaros doing burnouts on the hood of a Camaro.
I think this might be some kind of Camaro. It was very racy.
I want this shirt.
Hella #stanceflushjdm etc #Driftking
The unrestored-ness makes me thing this GNX is real. Who knows?
This Lotus Europa pullet up behind the Muralvette. I didn't know what it was until I had a good look at it.
The owner was discussing 70's British emission-control hardware in an accent I couldn't place.
The RX7 has aged very well.
I always get a good chuckle at the Ghia badge on the side of DeTomassos. "Hey bro, I have a Ghia, too."
This old couple showed up, parked in a side lot, walked around the main lot holding hands for a little while, then drove off.
The owner (not pictured) of the Dart told me he races an E30 with a slant-6 in Lemons, not this. This one is for vintage car racing. Oh and a Diablo.
I adore the rougher cars that show up. They really make my day.
Historic...you don't say.
Hey bro I see your hood is ratty and matches the rest of your front end, want a new hood?
Ratty longroofs rustle my jimmies.
This guy didn't seem to get this bug. If it shows up again I'll shoot some details because it's really well-done.
BMW drivers are like Maryland drivers but are not found exclusively in Maryland. However, vintage BMW people are generally the opposite.
I believe this is a factory 5 GTM.
I'm jealous of these kids. My dad never drove anything cool when I was a kid. He still doesn't.
These are always a treat.
As are these.
You know the owner loves his car when it has a matching color "For Sale" decal on there.
This guy had the angryface all morning. I would too if I was selling a fast Galaxie.
Next weekend I might go hit up Annapolis C&C or maybe somewhere else that isn't too far from Columbia. Hope to see some of you guys out there.