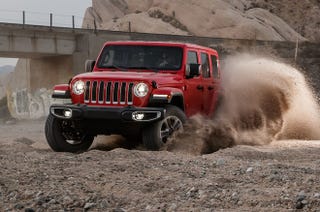 I mean, it may not have been exactly like this, but it's what I imagined it was like. I liked it. A lot. Maybe too much. I mean, the clutch was super soft (good, I guess?) and the shifter was nice, just eased into place, but took very little pressure. All this is compared to my modified Abarth, sooo...
It's a thing that I would like to own. I did try a JK Unlimited, and did not like a lot about it. Everything I didn't like was fixed in the JL. I might actually consider the lease route if I were to go this way. Looking at the (non)depreciation of the Wrangler, I hear I could sell it post lease for more than the buy-out. Hmmm.....
They are very, very cool, though.