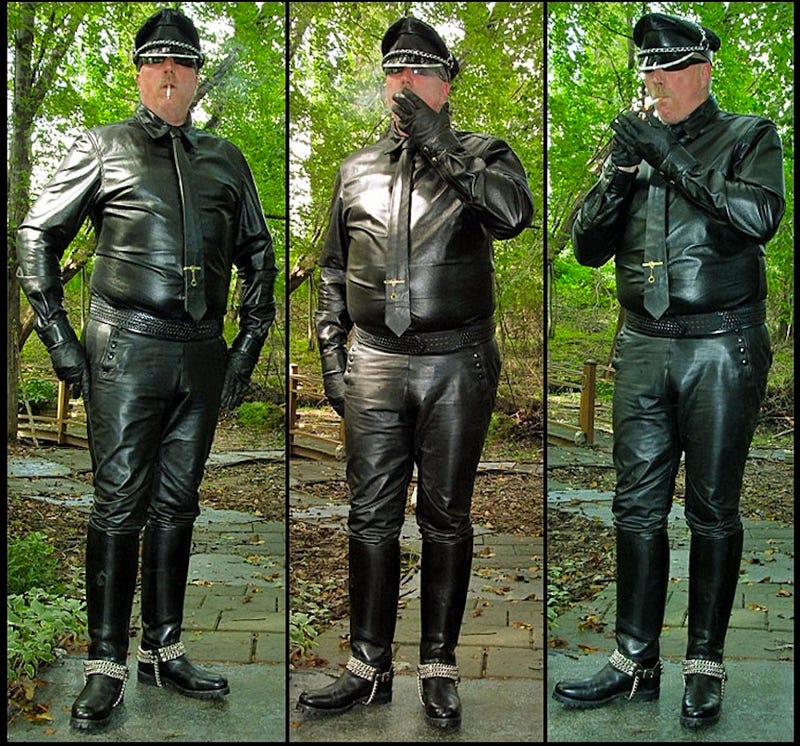 A local motorcycle dealer had an open house this last weekend. They had a band, free food, so a few of my buddies and I went to check it out and look at the 2014 models.
While I was there, I found a leather shirt on the discount rack that was pretty cheap. I had a gift card in my pocket, and had been wanting something lighter to pack for fall and spring riding.
Since it wasn't heavily branded and fit pretty good, I brought it home.
In fact, it was 58* this morning, and I thought it was perfect. I would have normally had to wear the heavier jacket, but this one fit the bill, and will be much easier to put in a saddlebag when it warms up.
The next day, I went online to look for care information, or to see what the regular price was, etc..
Then I did an image search, and that's when it got weird.
Enter Booted Harley Dude.
I am Booted Harleydude (aka "BHD"). Welcome to my personal website and my blog. (This is not a store or a commercial enterprise.)

I am just your average married guy-next-door who enjoys boots, leather, and riding my Harley-Davidson Road King motorcycle. My spouse and I live in the Maryland 'burbs north and west of of Washington, D.C., USA.

I enjoy riding my Harley as often as I can. That explains the large motorcycle boot collection and variety of functional motorcycle leather gear that I wear regularly, and share information about.

Boots and leather are an avocation, but aren't all who I am. I work full-time for a living, am a volunteer community leader, and pull on my work boots to help out elderly family, friends, and neighbors.

I am a cowboy at heart. I have ridden horses since I was a kid and iron horses since college. I owned and rode horses in amateur rodeos and around the hills of Southeastern Oklahoma in the past. I wear boots with dress clothes to work nowadays. That explains the large cowboy boot collection.

I wear boots as my choice of daily footwear and do not own or wear shoes or sandals. I wrote a tutorial about boots and explanation of boot terminology for HotBoots.com.

This website was created to help me catalog and index my boot collection, motorcycle leather gear, fetish leather gear, and to share my avocation.

Use the menu at the top of this page to explore this website. Thanks for visiting!
I almost took the shirt back.
PRO TIP: Steer clear of the Fetish Leather Gear Page