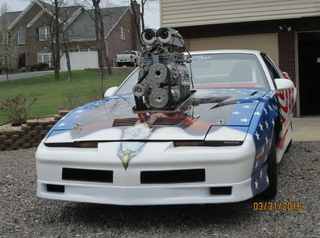 Have you ever seen so much stuff sticking out of a hood? Here's the worst part:
Double Super Chargers (Top one works, Under one Empty; Show Only)
What!? Something else stupid:
Engine is made to look like a HEMI...
Oh, no! More idiocy. The roll cage isn't functional. The front isn't actually attached to the frame! And the sides were cut out so you can get in easier. Never mind the seats. "Full 10 Point Rollcage (side door sections were removed, but available to reinstall)." Uh, no.
Oh God, will it ever end? It's a fake drag car with a sound system!

No, it doesn't end:
NOS (Nitrous Oxide) Bottle. Nitrous is currently only for show. It is hooked up, but Solenoids are NOT wired to Open into Engine. There is a Purge Button with a Red LED Light for Show Time in the Darkness.
I think he's talking about this: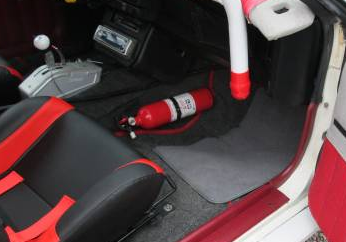 Never Raced by Me...
I hope not.
... or Dyno-ed.
Of course you wouldn't.
And the last bit means that you cant even make your fake drag car with sound system street legal.
Delete: Heater, Wipers, Park Brake, No fuel gauge due to foam filled fuel cell. (These are Typical of Pro Street Cars)