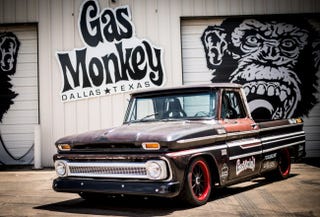 Gas Monkey Garage's custom 1965 Chevrolet C-10 pickup truck driven by Richard Rawlings, the owner of Gas Monkey Garage in Dallas, Texas is the Official "Pace Truck" for 2014 . The race starts at 8:00 AM Mountain Time. You can watch it live here:
It's been a busy week in Colorado Springs leading up to the race and the 92nd running up America's mountain looks to be very exciting, minus one truck that had a nasty accident.
The race up the mountain was augmented by the Airstrip Attack this year. It was well attended and should become a fixture in the events leading up to the race.