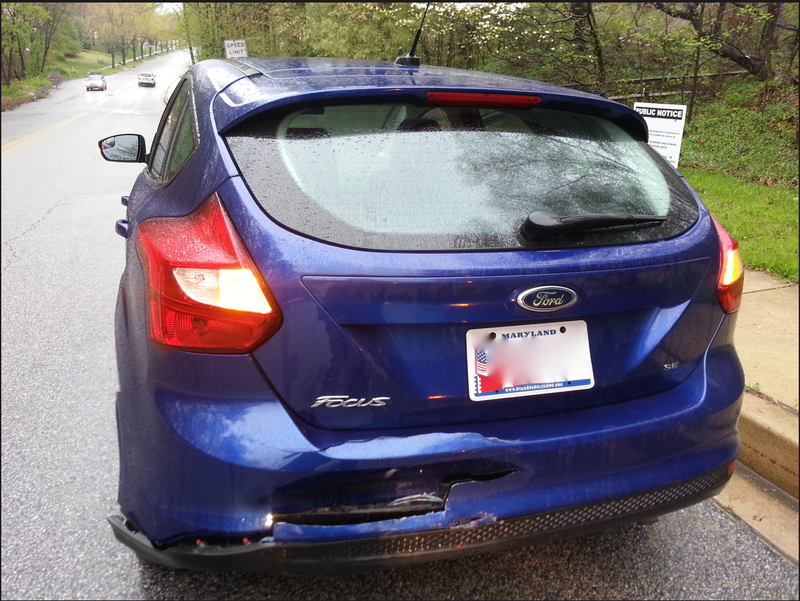 Traffic and rain came together to create a vehicular analogue to surprise buttsecks in the shower.
Traffic was heavy and it had been pouring all day (I'd actually been held up for about half an hour on my way to class due to a different accident that probably occurred minutes before I got to the scene). I was on my way back home when my accident happened. I needed to get into a right-turn lane at a stoplight to turn onto the street pictured, and the cars in front of me came to a stop as I was moving into said lane. I slammed on the brakes in time, but I was still partially in the previous lane - the other driver didn't stop in time and rear-ended me.
The moment of impact caught me completely off-guard; I was expecting to see more damage than this when I got out of the car. The left portion of the bumper and faux diffuser have been knocked out of place and crushed up a bit, but the car looks completely okay otherwise. I haven't noticed any difference while driving it, though I don't know how Ford's EPAS would deal with any changes in the alignment.
The other car was a 2012 Civic, and it took more damage - the left fender and left headlight are probably the only things on the front clip that don't need replacing. The woman who was driving also said that her car indicated that its airbags deployed, even though they didn't actually do so.
My dad's going to take the Focus to get an estimate for repairs tomorrow - hopefully we can get a rental once we're able to start those repairs. The other driver was nice about the whole thing; she was pretty worried and asked me how I was doing after we pulled over and when she sent me her policy number later that evening (her insurance agency doesn't provide cards, apparently?). I don't know what she's doing now, though, as her agency said that she hadn't reported it when they called me back the day after my dad filed a claim. I at least have proof that it happened - if you look at the pic of the Focus, you can see a shard from the Civic's right headlight resting on the bumper.
This is my first time dealing with whiplash, too; I haven't experienced any extreme pain, but I hate how stiff my neck and back feel at times.