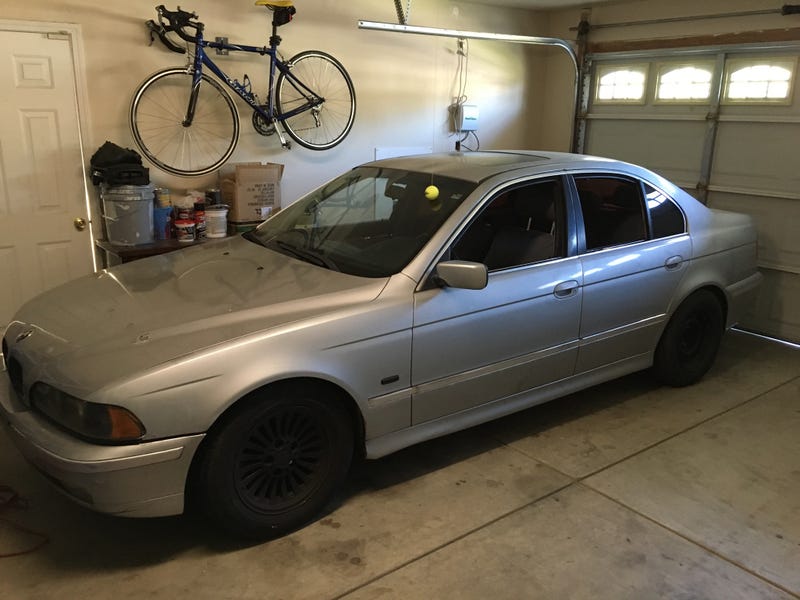 I bought a 1997 540i nonrunning off of craigslist as a project car. It had EWS (anti theft) issues including a transistor broken off of the EWS box. Additionally the ignition switch was bad. Initially things didn't go so well, I locked myself in on a 90+ degree day. That was rather scary, but luckily my children noticed me out there.

I finally got the EWS taken care of by soldering the it back together (with the transistor on the bottom) and pulling the EWS chip out of one of the keys and taping it to the ring anten a. I know it's a tackie solution, but I taped the EWS trip to the ring anteb a and hid it inside with a zip tie. Now it starts every time. I love the way the engine sounds and how hard it pulls!

I have two issues that revealed themselves once the car was motile: it drives like crap shaking and requiring a 30° steering input to go straight, and the ABS and AF it drives like crap shaking and requiring a 30° steering input to go straight, and the ABS and ASC lights are on.


In response to the shaking which did increase with braking, I am replacing all four rotors and pads. Especially since one rotor was broken, I've never seen it before but it had one flat edge. I will be investigating for worn bushings and whatever other little suspension bits are under there as I change the rotors. That was probably the real cause.

As for ASC and ABS lights, I read two codes: front right wheel speed sensor and CAN MD_IND signal error. I found a thread for that sending error and a fellow indicated it was his MAF, so I cleaned that last night. I have no idea if that code will go as I have one wheel in the air and I assume ABS and ASC self diagnose in motion. I will check the front right wheel speed sensor wiring and maybe order a new one when I have that wheel off of the ground for rotor replacement and thrust arm investigation.


I have a used style 32 or 33 wheel from eBay. I'm painting all four blue. As, at the back left the wheel was torn through on the inner lip by about 3 inches. I also got to drill out a broken lug bolt from that hub. Which went shockingly perfectly. I was drilling into it, preparing it for an easy out when the chunk of bolt fell through into the parking brake drum.

I am tickled pink with my 540i. My wife was concerned when I got it running two months in that the project would be over. Not even close. Once it drives well (which will be plenty of work), I look forward to performing some novice body work.