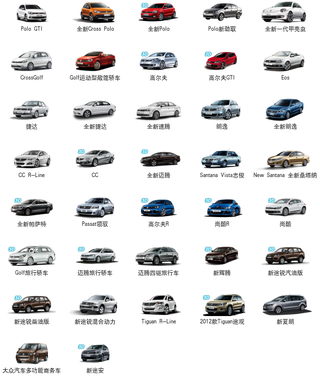 Earlier today I went on a mind-bending journey of Chinese VWs. Have you looked at the lineup there? It is an asylum of old and new and overlapping sedan models of every stripe. There is literally something for everybody.
From top left:
Jetta - This is the car we know as the Mark II with some cosmetic upgrades. FAW brought these to market in 1991 as knockdown kits but now do full production. FAW builds these in two plants due to demand and they're on their 3rd facelift.
New Jetta - This is a product unique to FAW. It's built on the PQ25 platform which is shared with the VW Santana, Polo, Skoda Rapid and Seat Toledo.
New Sagitar - The New Sagitar is the US-spec Jetta we have right now, not to be confused with the two other Jetta variants seen above, which I guess is why they gave it a different name. Instead of J3tta or Alt_Jetta or something. Also available in GLI trim. There is no vanilla Sagitar, only the New Sagitar. Just three models in and this is already a mess.
Lavida - This is the last-gen version of this midsize car based on the PQ34 (A3, TT, Golf, Jetta) platform. So basically another Jetta, kinda >.<
New Lavida - Ok now this is the new version of the old Lavida, which may ultimately be available in 5d and Lavida Cross variants. So to sum up, more Jettas that are essentially the same as other Chinese Jettas but newer and in some other bodystyles.
CC - They list the CC R-Line as a separate vehicle but AFAIK that's just an appearance package and no real hardware changes. Oddly, the image of the CC in the link has "3.0 V6" on the plate but I can't find any mention of a 3.0 in the CC for China or anywhere else. Wiki lists the 3.6L as the lone 6-cyl option and I don't think that was ever available in China on this anyway. Looks like 2.0L 4s only from the specs I can find. But otherwise no confusion!
New Magotan - This is a LWB version of the European B7 Passat. I think. I did find a mention of the 3.0 V6 for this car, which is a specially-developed for this market FSI VR6 (EA390), and sounds kind of cool. That's the top-spec engine, apparently. So maybe it does exist on the CC. Probably. I guess. Maybe.
Santana Vista - I think this car is primarily for taxi and cop use, but I guess anybody can buy them. They're popular. Unbelievably, there was the other old German-designed Santana available alongside this Vista model until sometime in 2012. So they're doing the whack-a-mole Jetta strategy for this car, too.
New Santana - OMG, this is basically the same as the New Jetta seen above. Seriously I think this is just a cheapo version of it on the PQ25 platform. WTF MAH HED HURT.
New Passat - This is the US-spec Passat (NMS), just as the New Sagitar is the US-Spec Jetta. Only here they don't rename it. This version of the Passat is only sold in the US, China and South Korea and parts of the Middle East. We're so special! The Chinese version is slightly more upscale than the NA version, with increased wood trim and rear AC vents and things. That was actually pretty easy...
Passat LingYu - This car is based on the B5 Passat platform but is 100mm longer, and began production in China in 2009. This is the same basic underpinnings as the Skoda Superb, apparently. So, several generations-old stuff available alongside the newer model.
New Phaeton - Just this guy by himself. No Old Phaetons to share the spotlight for Chinese VW Top Dog. I think these are all built in Dresden and imported. 3.6L or 3.0 TDI only.
And just for funsies, let's compare all of that to the barren product wasteland that is VW North America's current lineup:
Urge to kill...fading...fading...fading