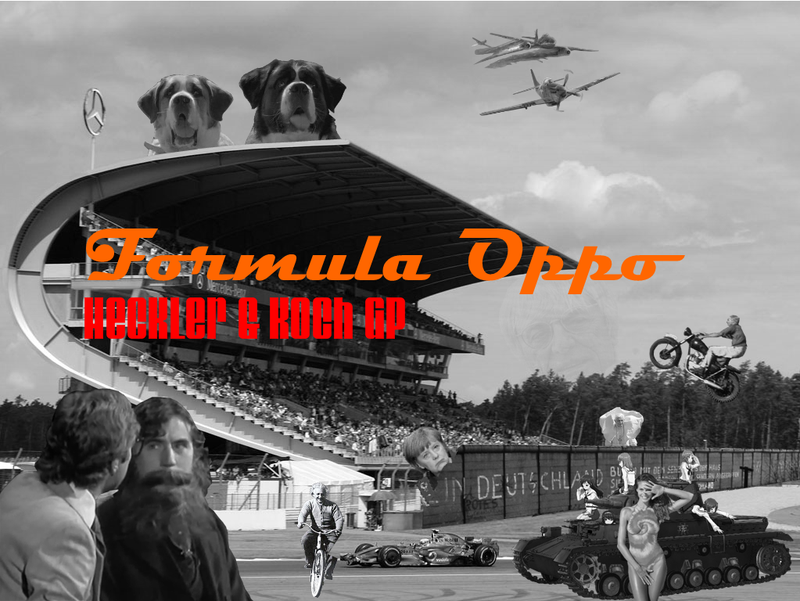 Velcome back to ze Formula Oppo, our temporary distraction from our miserable, meaningless lives. This week is the tenth round of the fleeting hope that would be victory. Participation vill only lead to disappointment and crushing defeat at the hands of vhom you once called "friends," but it is still encouraged as not partaking vill only make you lose vorse.
Ze last time out, Nico Rosberg, Kimi Räikkönen, Felipe Massa, Marcus Ericsson, Pastor Maldonado, und Esteban Gutierrez, vere met by ze cruel jaws of fate zat is constantly licking ze vorld and revealing ze sad truth zat is vat ve call life. Lewis Hamilton vas able to capitalize on zis und make it across the finish line first. Following him into ze void of not racing vas Valtteri Bottas vith Daniel Ricciardo behind him. Lewis Hamilton's trophy realized it's place in ze vorld and proceeded to fall apart from its sad existence.
Ze Hockenheimring Baden-Württemberg has been in existence since 1932 und has been redesigned and shortened to match peoples lives. Ze current record holder is Kimi Räikkönen, who vill never again break ze record as ze cars have gotten slower und more depressing as time vent on. Vill Lewis see another victory or vill he be met once again vith ze crushing reality of life? Can Nico maintain his overall lead? No under dog can vin as zis is how life is. But, there is still room on ze podium for ze not vinners. Vill you pick zem?
Ze vorthless fools to partake in ze racing are:
Sebastian Vettel- Red Bull
Daniel Ricciardo- Red Bull
Max Chilton- Marussia
Jules Bianchi- Marussia
Nico Rosberg- Mercedes
Lewis Hamilton- Mercedes
Kimi Räikkönen- Ferrari
Fernando Alonso- Ferrari
Romain Grosjean- Lotus
Pastor Maldonado- Lotus
Marcus Ericsson- Caterham
Kamui Kobayashi- Caterham
Sergio Perez- Force India
Nico Hulkenberg- Force India
Felipe Massa- Williams
Valtteri Bottas- Williams
Kevin Magnussen- McLaren
Jenson Button- McLaren
Esteban Gutierrez- Sauber
Adrian Sutil- Sauber
Jean-Eric Vergne- Toro Rosso
Daniil Kvyat- Toro Rosso
Mein Kampfy picks are:
1. Lewis Hamilton
2. Nico Rosberg
3. Fernando Alonso
Q. Hamilton
Curse: Ve are all cursed to one day die, so I vill not curse a driver.
You vill have until Q1, (Saturday 19th at 8:00 am), to make your picks.
Es gibt kein Glück