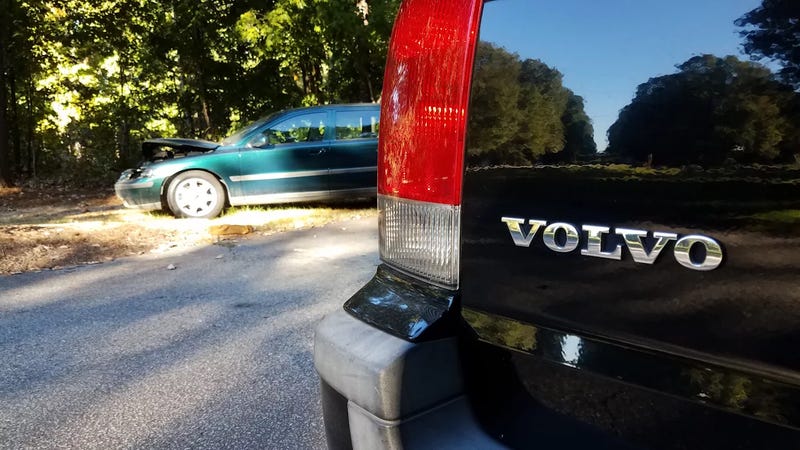 In the weeks the followed my latest accident, I was conflicted on how I should replace my very loved 2001 Volvo V70 T5. I went back and forth between BMW's and Saab's and even considered a Cadillac Escalade, but I really did not know was a suitable and appropriate replacement for my Volvo could be. Then, one stormy evening, it came to me. A vision. A dream. An answer. I needed another Volvo V70.
So I bought another one.
This car is nearly identical to my old one as it is a 2001 Volvo V70 T5, but this wagon is obviously a different color and has a few other minor differences. As a two owner California car with 124,000 miles, I was delighted to learn that it was in much better shape than my green wagon. My previous automobile in question had a never ending alignment issue that caused a horrible vibration at any speed above 65 miles per hour, it featured a horrifying creaking noises whenever I took a turn at low speeds, and half the time the air conditioning would blow hot air, all of which was less than ideal. The new car seriously drives like it's brand new, as it is considerably more solid feeling and stable than the last V70. Of course, it still has the infamous Volvo turbo lag that punches the driver in the face at 4,000 RPM and swiftly brings you to the redline in no time at all. Volvo turbo lag is truly a unique phenomena, something you will not find in any other turbocharged vehicle.
Sure, it also has some of the usual Volvo Issues. And yeah, most of the interior doesn't really work too well. All the interior lights won't turn on, the sunroof cannot open, the passenger seat decided that it has to reason to move at all, the auto-dimming mirror refuses to do it's only job, and just yesterday the cruise control decided to suddenly malfunction while I was travelling at about 70 miles per hour on the highway. There's also some paint fading on the hood, which doesn't surprise nor bother me as the car has lived it's whole life in Vista, California. Still, the air conditioning works perfectly and the drivetrain feels brand new so I don't think it's appropriate to complain too much.
Also, the black Volvo's worst problem was it's most obvious: the bottle top resembling 16 inch wheels. They were just so unappealing. Thankfully, the green Volvo was sitting dormant in our front yard and it was filled to the brim with perfect parts, including Volvo's stunning 17 inch Amalthea wheels. So I knew what I had to do. Over the course of an afternoon, I switched the wheels over from the green car along with some interior trim pieces to give both the inside and outside of car a generally better look. Not even going to lie, I think my new wagon looks cleaner than my previous car by at least tenfold and as you can see in the photos above, the larger wheels really do heighten the low-slung aesthetic of the V70.
I have only driven this car about 850 miles, nothing compared to the 15,000 miles I drove in the old car, but it's simply so obvious to me how much better this car is compared to the old one. I'm really trying to not crash my latest vehicle, or any vehicle for that matter, as I plan on keeping this V70 for the rest of my life. Sure, I'll own other cars but my V70 will always be there. After all, it's no secret that I have a passion for these quirky, typically malfunctioning, Swedish wagons. Seriously, don't be surprised when Jalopnik posts an article about my future V70 T5 collection after my town forces me to sell off all of my cars. I can't wait for the adventures this car will take me on, the places we will go, and the people we will meet.