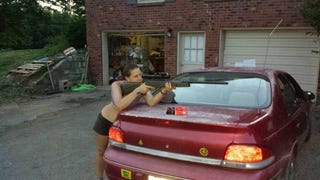 1997 Chrysler Cirrus with a blown head gasket for $450. Now, I wasn't sold on it until I saw the pictures!
Nothing gets me interested in buying a car like a scantily clad woman shooting a rifle(?)!
And ladies! They didn't forget about you!
How would you not want this car? Look at the men it attracts! It looks as if he's loading up a gun or just showing off for you!
So, for $450 you can own what was most likely an accessory to a murder! NPOCP?
I hate Florida.