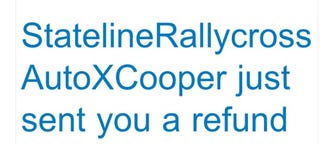 This weekend's rallycross was canceled, due to low car count. Their last two events ran with very low counts. When I checked last week, there were only 4 cars registered for this weekend, including me.
I'm concerned the whole organization is going under. They never posted the results for their last event, and there's nothing on the website about the canceled event. They just deleted it off the calendar and put a little blurb on Facebook.
Next month's event, like last month's, is a four hour drive away, so that's a no-go for me. Now the RallyMetro is going to have to sit for two whole months until I can run it again. It's already been two months!!! I need my fix!!
I hope the car count is decent for the October event. Area Oppos, we need to support this organization if they're going to survive. I'm willing to work out a deal with someone to do two drivers in the RallyMetro.