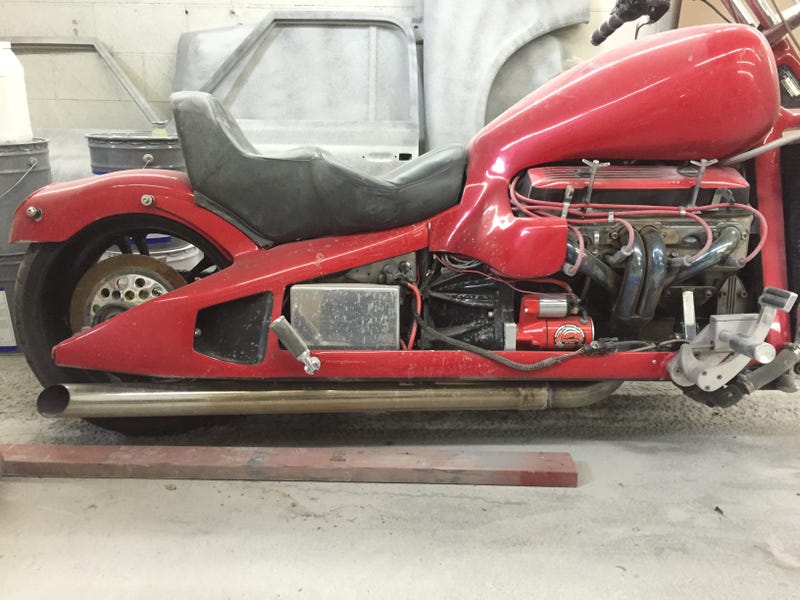 This weekend I was in Kelowna with a couple friends, we stayed with their uncle. He likes V8s, a lot. Specifically 383 stroker small block Chevy V8s. he likes them enough that he built this motorcycle around one. Well, he started with a 305, in 1995. This is version three of the V8 bike, it has roughly 400hp, and weighs 800lbs. It has no transmission, just a clutch straight to a Bronco II front diff with 3.08 gears, hooked to a chain drive. I haven't seen it in action, but I'm told it's rather terrifying. It's been sitting for the past year while he worked on other projects, namely his boat, and his car he's building.
I couldn't get a great picture of the car, but it's a fibreglass body based off a Jag XK120, on a C4 Corvette frame, with a lot of things changed, I'm not sure what exactly. It also has a 383 stroker. Oh and suicide doors. The cutouts are for massive side pipes, of course. So this should be interesting when it's done. He has his own body shop, and does custom bodywork and paint all the time, for anything from regular cars that had a fender bender, to drag cars, to show cars. I don't have any pictures of work that he's done unfortunately, other than his boat.
Oh man, tha flames are not my style but you can't deny how well the paint is done. His favourite thing is candy apple red, with metal flake. The running joke is that everything he buys gets a V8 and a candy apple red paint job. This boat is a 1990 Sea Ray, and it used to have a 330hp 454. He immediately ripped that out, and now it has a 500 big block, with a 671 supercharger, I believe. He says it makes at least 625hp, and I believe it. According to its speedometer, the 454 could get it to 45mph, and the blown 500 can get it to 58mph. He's switching to hull exit straight pipes, so it should be getting a bit faster after that. But yeah, my only boat experience is a 40hp Zodiac, and the BC Ferries. This is a very different animal, and oh good god the supercharger whine. It was wonderful.
The wake when cruising 100rpm from redline, at probably 58mph....
Now for the final V8, my friend's $400 540i, that I've posted before I'm sure. The french lights are gone, the hood is dented, it hasn't been washed in months, and it's not on M-pars anymore....
Oh and I think we lost a trans mount on the way up. Harsh vibrations and intermitted slapping of the trans tunnel, probably by a U-joint. So that wasn't sketchy at all....
Still did freaking well for a sub-$500 V8 BMW that's been dailyed on and off for around a year. I need to get an exhaust clip of this thing, it has four resonators and nothing else. The drone is real, but so worth it when you get above 3500rpm.....
So that has been my long weekend of V8s, I hope you enjoyed!