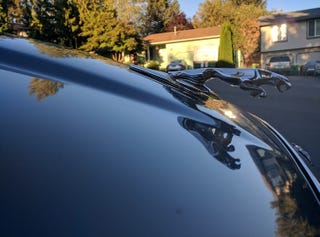 A few weeks ago I placed a lowball offer of a 2000 Jaguar XJ8 listed on Copart (a salvage auction company). It was late at night and I may have been a few beers in at the time, so you can imagine my surprise when I got a call last Wednesday afternoon informing me that I'd won a car (there a was a little more to it, my lowball bid didn't meet reserve so there was some back and forth that still ended at a stupid low price). When I showed up they seemed pretty surprised that my intention was to drive the car away (for good reason if you know the kind of cars copart sells) but w/e, I'm a particularly ambitious idiot. They brought the car out and despite being pretty dirty, everything looked straight and in order. When I got in the drivers seat I was greeted by this

Along with a check engine light. I got out my code scanner and found codes P0351 and P1000 (bad cyl 1 coil pack and drive cycles incomplete), cleared them and started the 30 mile drive home. She was missing pretty bad at low RPMs, and the restricted performance mode limits revs to 3000rpm, but aside from that she did pretty well. Gave her a wash and she actually clean up nice!
I'll begin troubleshooting tonight by swapping around some coils and seeing if the misfire follows the coil currently in A1.
We'll see how it goes, but it's looking good as a potential replacement for the E39, especially if all it takes to get running is $30 in ignition coil. Not a bad impulse/accidental purchase.