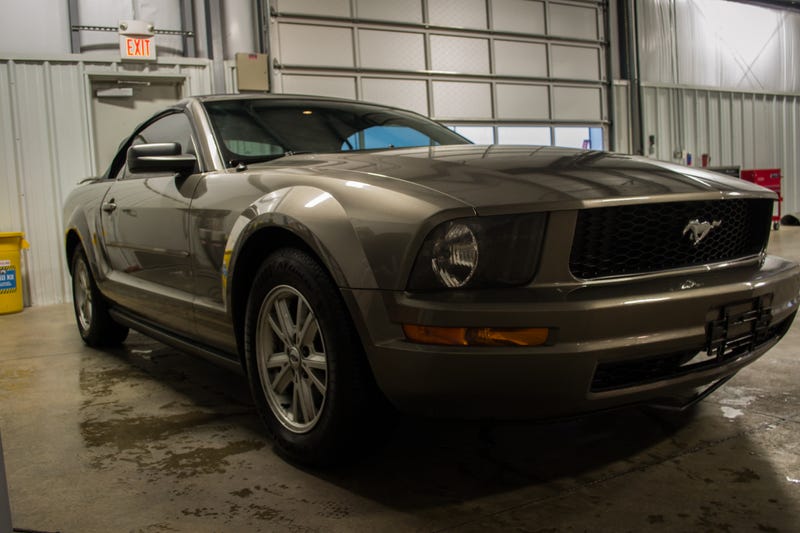 Remember the 2005 Mustang I reviewed a while back? The rental car I was using while the Miata was in the shop? I bought it. For $4500. Here's what my money got me:
An car. In this case a base model 2005 Mustang V6 Convertible. Options ticked consist of ABS/Traction and the optional spoiler, as it originally began life as a rental car in Florida.
Air dam trim piece thing that's falling off (going to do a Mach 1 style front spoiler out of garden edging, as many people do)
Obvious air rifle misshap
Obvious poor repaint
Scratches and swirled-to-shit paint. Going to have it buffed after hitting some spots with touch-up paint to at least make the fucker one color.
So much brake dust. It's insane. These pads are godawful.
A door.
An interior.
Another door, and a well-worn steering wheel and automatic shifter I shall be replacing with their leather-and-aluminum GT variants.
Shitty Chinese head unit I will be replacing with a Pioneer double-DIN non-touchscreen because fuck touchscreens in cars.
And lastly, a donkey.
My plans for this car are to leave it mechanically stock, fix any minor things wrong with it (at this point it looks like strut mounts, a couple interior bits and bobs, and paintwork), freshen up the interior with a few new/updated/less worn-out parts then look at reselling it when convertible season hits us again for a profit. I still have the Miata, though with a bent subframe it's not going to be driving any time soon, but it will be driving again, hopefully before this coming summer and the autocross season. I have not decided what direction to take the Miata modification-wise after its curb-hopping pole-hugging incident. Current options are to keep on with making it a nice daily driver or to strip it out and go full racecar, which would be nice but it has a perfectly serviceable interior and I'd hate to ruin it when there are so many shitbox Miatas already out there.
Anyways, that's my Mustang. Always made fun of V6 Mustang owners, now I have one. Go figure.